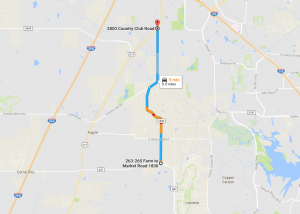 Southern Denton County residents can ask questions and give feedback to the Texas Department of Transportation next week about proposed improvements to FM 1830 from FM 407 to Hwy 377.
The proposed project would widen FM 1830 from a two-lane highway to a four-lane road with one lane in each direction for shared use by bicycles and vehicles. There would also be sidewalks along the side of the road, according to the meeting notice.
FM 1830 meets FM 407 near the town borders of Argyle and Bartonville, just west of Lantana, and runs north-south about 5.5 miles to Hwy 377 in south Denton.
The meeting will be held on Sept. 26 from 6-8 p.m. at Harpool Middle School, 9601 Stacee Lane, in Lantana. TxDOT representatives and project consultants will be there to answer questions about the proposed project in an informal open house format with no formal presentation. There will be maps showing the location and preliminary design.
Written comments will also be accepted up ti 15 days after the meeting