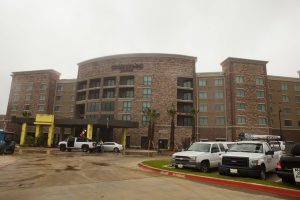 The Courtyard by Marriott Hotel, Flower Mound's first hotel, will be welcoming town residents and guests months prior to the parking garage completion as originally required by the town.
Flower Mound Town Council on Monday passed the first amendment to the Development Agreement (DA) — which dealt with the need to correct the wording and location of the actual parking structure– and a second amendment to the Chapter 380 Partnership Agreement providing economic development incentives which would allow the Town to issue a Certificate of Occupancy for the new Courtyard Marriott hotel upon its completion, while the garage remains under construction.
Economic Development Director Andrea Roy told the council that all incentive payments and rebates provided under the Chapter 380 Agreement will be placed on hold, until such time as the parking garage is complete; set to be March 15, 2018, plus a 30-day "act-of-God" extension. The incentives/rebates involved total approximately $3 million.
The hotel, at 4330 Courtyard Way in The River Walk, is scheduled to open on Sept. 29, 2017.