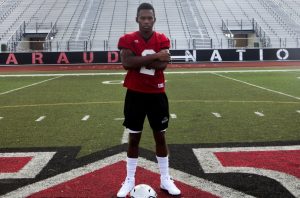 The 2016 football season was Justin Dinka's breakout year and he certainly made the most of it. He earned first-team All-District and Honorable Mention All-State honors, as well as being selected the 5-6A Offensive Newcomer of the year.
The Marcus junior burst onto the high school football scene in 2016, by rushing for 1,711-yards and 20 touchdowns for the Marauders.
He added that before the Marauders opening game last year against Arlington Bowie, he had no idea that he would have the kind of season he did.
"I really didn't know what to expect, because it was my first year on varsity," Dinka said. "I just gave everything I had on every play; and, I thought I performed well."
If football was the only part of life that required his attention, he would have had no serious problems, because the sport has always come fairly easy to the 5'11", 190-pound junior. But, there was something else.
When asked about the biggest challenge he has ever had to overcome in life, Flower Mound Marcus running back Dinka's answer was pretty straightforward: "Loss of control," Dinka answered.
"You can't control everything that happens to you," Dinka said. "You've just got to overcome the bad times of life."
The bad times for the Marcus junior came in the form of his classwork, which served as a constant challenge, particularly in the early years of school. Just to stay afloat scholastically was an effort for Dinka, who said there were times he felt lost and was not sure if he would make it. And, as student athletes know well: "no grades, no play."
And that was when Dinka decided that it was time to utilize a quality that had always served him well on the field—his work ethic.
"The most difficult thing for me was school," Dinka said. "It was because I didn't learn at the same pace as everyone else did. The teachers' lessons would go by so fast and I just couldn't keep up. So, I had to figure out how to learn at my own pace. I went to tutoring, I was in speech class and got extra help; and, eventually I started to understand and get it down easier."
And, it has gotten much easier for the Marcus student/athlete, who has received offers from the University of Missouri, Houston, Illinois, Baylor and SMU already, as he is just getting set to begin his junior year.
Dinka's hard work and perseverance has always shown on the football field, where he has emerged as the type of player that Marcus Head Coach Kevin Atkinson said is fun to coach.
"He has a strong work ethic and he's a difference-maker," Atkinson said. "He can score from anywhere on the field, at any time, which is pretty good. But, he's also very humble. It's very interesting. He is a popular kid, who is also kind of quiet and, at the same time, will get after it on the field."
Atkinson said that it can be easy to be deceived by Dinka's easygoing demeanor, particularly when it comes to the game itself. Many opponents have learned the hard way that the Marcus back is not to be underestimated.
"You look at him and you'd think he was 155 to 160 pounds," Atkinson said. "He is more like 190-pounds or better and very powerful."
Dinka said he has worked on his "hands" and his "power" this past summer and said the Marauders need to have discipline this season to achieve their goals of playing as a unit and making the playoffs.
Atkinson said Dinka will have a prominent role on this year's team and said he does not think that will be a problem for anyone in the Marcus organization.
"We want to have him involved as much as possible and let him contribute," Atkinson said. "The best part for us is that he is a level-headed young man who, even though he has received a lot of accolades, is still humble and great to be around."