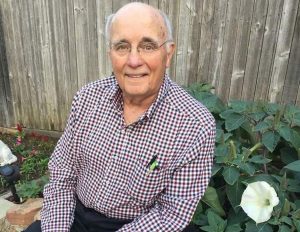 Charles Douglas "Doug" Killough, 77, of Lewisville died Friday, Sept. 8, after a sudden illness.  Killough was born Nov. 14, 1939.
Thursday and Friday, as news began to spread on social media about Killough's illness, hundreds of people shared updates, called for prayer and sent well-wishes to his family.
Killough came to Lewisville ISD from Hueytown, Ala., in 1982 to serve as the principal of Lewisville High School (LHS). During his tenure, such traditions-to-be as Farmer Pride, The Battle of the Axe and The LHS Wall of Fame were initiated by Killough.
After 15 years in that role, he was promoted to Assistant Superintendent of Student Services, by then-Superintendent Dr. Clayton Downing, in which role Killough served until his retirement in 2005.
His credentials and experience to serve as a high school principal and oversee the district's student services, but it was his humanity and care he gave to students that placed him as more than merely an administrator.
"It was never a job to me," Killough said of his years in LISD during an interview with the Lewisville Education Foundation. "And, I was never in it for monetary reward. The rewards in education aren't financial. The reward is seeing students succeed. It's when you hear from a student years later who has reached out to thank you for your leadership."
Killough was motivated to meet the needs of his students. He was involved with the students, getting to know them and their needs, interests and dreams.
Whether it was the everyday things like interacting with students in the hallways, or the fun things like participating in their talent shows with them, or the charitable things like buying a coat or replenishing a lunch account for a student whose family just couldn't, he was selfless and quick to give of his time, his talents and his resources (often anonymously so as not to change his relationship with the students).
Community was important to Killough. He viewed his role as principal as one of community builder. He joined local service organizations and participated in civic activities – commonplace activities for principals today, but new ground in 1982.
When LISD opened Marcus High School (MHS) and made it a comprehensive high school, Killough saw a potential split in the community and worked with then-MHS Principal Larry Sigler to create The Battle of The Axe. The annual meeting of the LHS and MHS football teams, may have a trophy on the line, but community spirit is in the air.
But Killough boiled it down to just two words, coining the phrase still used on all three LHS campuses today: Farmer Pride.
"Mr. Killough was an amazing leader in LISD as an assistant superintendent and principal of LHS," said Pam Flores, principal of the freshman-sophomore LHS campus named in Killough's honor at 1301 Summit Avenue in Lewisville. "Mr. Killough coined the phrase 'Farmer Pride' while he was the principal."
After his retirement, he joined Denton Area Teachers Credit Union in business development.
Killough was known in the community as a servant leader, serving on numerous boards of directors for nonprofit organizations.  He was a member and past president of Lewisville Noon Rotary.
Over the years, he was named as Citizen of the Year by both the Flower Mound and Lewisville Chambers of Commerce.
Killough's legacy is strong and enduring. He continued to impact students after his retirement, through his continued involvement with the students and teachers of LISD through community service, his role as a member of the LEF Board of Directors and his business development role at DATCU.
In addition, the Doug Killough Honorary Scholarship, is awarded annually through the LEF Scholarship program to a senior graduating from LHS in the top quarter of the class– who has financial need– and is active in school and community activities.
Killough was a long-time member of Northview Baptist Church, where his pastor Kenneth Wells said he had served in the past as chairman of the building committee and as a music minister. Wells added that Killough also had sang in the choir and in a gospel quartet.
Killough's Christian faith was important to him and that he wanted to share the faith and help others come to know Christ, said Wells.
Killough is survived by his wife Beverly and their grown children, Doug, Jr., Don, Tami and Teri.  He also has grandchildren and great grandchildren.
Funeral arrangements have not yet been confirmed, but Wells said that Killough's wishes were for his funeral to be held at Lewisville High School.
A public service will be held Tuesday, Sept. 12, at 5 p.m. at Lewisville High School, in accordance with Killough's wishes.
Portions of this article courtesy of The Lewisville Texan Journal.