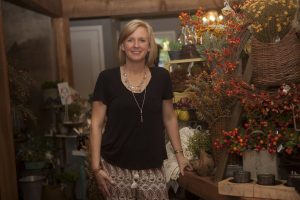 While she knows there are other boutique home décor and gift shops in Roanoke, Juli Cuthbertson believes her brand new Oak Street Home Market offers something different than the rest.
That's because she tries to stock items not found in other places. These include personalized maps and signs by a Kansas City artist, furniture from an East Texas father-and-son team, and pillows from a Mississippi company. And while she has attended a major trade show in July in Las Vegas and plans to visit another in Atlanta in January, she prefers sourcing from Texas artists and vendors.
"We try to offer high-end quality items at a reasonable price," said Cuthbertson, whose shop officially opened in early August across from Hard Eight BBQ and just blocks from the future Peabody Hotel and Roanoke City Hall.
"That's my goal. I can't tell you how many times people come in and flip the price tag over to look at the price and they're shocked because it's so reasonable. I've had people from other states tell me I need to charge more. I don't want to do that. I want women to decorate their homes and to feel it's in their budget and not break the bank."
Cuthbertson moved to North Texas a year ago when husband Curt needed to be near an airport hub for his job as a regional sales manager for Terminix. Selling the restaurant and catering business she owned for 10 years near the Kansas state capital in Topeka, she initially decorated their home in the Canyon Falls development and helped their 13-year-old daughter adjust to a new state.
"After you've been in business by yourself for that long you get a little stir-crazy," she said. "We have some friends who had a really cool home décor and accent shop in Kansas and really loved the look and feel of their shop."
When Cuthbertson noticed North Texas housing boom, she knew what new business she'd pursue.
"Right now we live in a housing development that has 600 houses and is projected to have 2,200 when it's done," she said. "There's another new development (Trailwood) going in across Cross Timbers from there. There's another going in Argyle. The home building is booming right now and people need to decorate their homes."
Oak Street Home Market is located at 204 S. Oak Street in Roanoke and is open every day but Monday so Cuthbertson hopes everybody walking the neighborhood comes to visit.