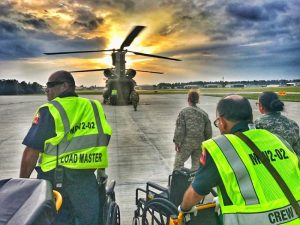 Many local firefighters, police officers and regular folks joined thousands of others in the Houston area to provide aid before, during and after Hurricane Harvey wreaked havoc on South Texas.
Firefighters from Argyle, Double Oak, Flower Mound and Highland Village — among many others from around North Texas and across the state — participated in the emergency response in the Houston area. Flower Mound deployed as many as 16 firefighters at once, but rotated some crews in and out after about a week.
Some of them primarily spent their time evacuating hospitals and nursing homes, while others handled 911 calls and water rescues.
Many of them, like the department's spokesman, Brandon Barth, arrived just before Harvey did. Barth was a part of a Texas Emergency Management team, which was sheltered during the storm in the San Patricio County Sheriff's Office in Sinton. It was only about 15 miles away from where the hurricane's eye wall made landfall, he said.
"It was like being in a tornado for eight hours," Barth said. "The howling wind, rain and debris pounded the building, and the power kept going on and off before going out completely. The building was shaking, walls vibrating, roof popping with the winds and water coming in through the roof.
Immediately after the storm passed, the damage outside was similar to that of a tornado, but much more widespread, Barth said.
"I tried to take pictures, but they didn't truly capture the magnitude of the damage," Barth said.
The emergency management team, an extension of the state government, then spent about a week advising and assisting emergency response teams and calling in resources. They provided aid across the state's coast, from Ingleside and Port Aransas to Sugar Land and Port Arthur.
The Flower Mound AMBUS also didn't stay still long, as it drove around the area, primarily evacuating hospitals and nursing homes.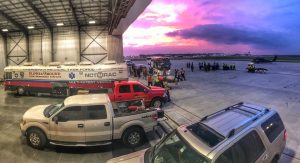 Captain Jacob Ventrca was part of the seven-person AMBUS team, which left Flower Mound on Aug. 24, before Harvey hit, and stopped in San Antonio. From there, the AMBUS, along with other agencies, was assigned to evacuate a nursing home in Corpus Christi and transport the residents to Boerne, near San Antonio.
"We worked straight through the night, I think I was up for 30 hours," Ventrca said.
After that, the AMBUS transported resources to the town of Humble, outside Houston, which was experiencing a lot of flooding. Then the team evacuated a nursing home in Sweeny, which was expected to flood the next day from a rising river. Those residents were taken to San Antonio.
Ventrca said he saw a photo being shared by the news media of a nursing home that was full of water, with water up to the patients' armpits.
"We helped prevent that" at other nursing homes," Ventrca said. "It was cool to know we were making a difference where the help was really needed."
Among other missions, the AMBUS also helped set up a shelter at NRG Stadium in Houston and "getting patients to where they needed to go." The team assisted the National Guard transport nursing home patients by air out of Port Arthur, and later helped evacuate about 150 patients from a Beaumont hospital, which had its water and sewer go offline.
After about 10 days, Flower Mound sent a new team to take over the work.
"We were disappointed when they sent replacements, though we were fatigued," Ventrca said. "A lot of our guys didn't want to leave because we knew we were making a big difference, but it's good to be home."
Ventrca said he was moved by the heroic efforts by regular folks.
"If it wasn't for them, it would have been a much higher death toll and much worse situation," he said.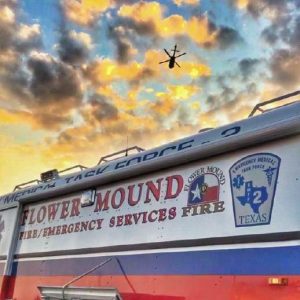 One day, some of the AMBUS team members went to a small grocery store to buy about $60 of necessities and personal items.
"There was a woman shopping there, she wouldn't let us buy it," Ventrca said. "She insisted on paying for it. There's no telling what she just went through."
Ventrca said all the agencies worked together well for one common goal, but one team stood out.
"I'm very proud of our guys," he said. "Our team was second to none."
While a lot of the residents in the area "were ready to clean up and get back to business as usual," Barth said, they've got a long road to recovery.
"Complete recovery will take years," he said.
Barth said he received an email from the state this week that said that there are so many financial donations and people volunteering to help that the state is "having a hard time trying to manage all the donated resources." The state is asking people who still want to help to donate money or services to a national volunteer group.