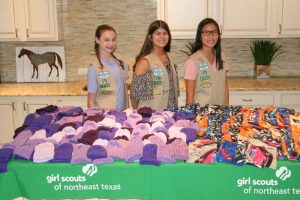 Three local Girl Scouts organized a community event to benefit patients at Cook Children's Hospital and earned one of the highest awards in Girl Scouts in the process.
Caroline Miles, Doris Olenkiewicz and Anna McNeace have been in Girl Scout Cadette Troop 3754 for about seven years, and they recently achieved the Silver Award, the second highest award a Girl Scout can achieve.
The troop held an event at Bridlewood Amenity Center on Aug. 19 for girls and Girl Scouts age 7 and up to learn about some things Cook Children's Hospital needs and how to make them.
The troop knitted 179 purple infant hats for the hospital's Purple Hat Program, which spreads awareness of Shaken Baby Syndrome to infant caregivers, and they sewed 173 fleece gel pad covers for the in-patient unit and Neonatal Intensive Care Unit.
To achieve the Silver Award, Caroline, Doris and Anna needed to create and run a project that would benefit the community, and they learned about budgeting, project and time management, teamwork and the value of helping others. The girls recently started 9th grade at Marcus High School and are advancing from cadettes to seniors.