by Tamara Tejml Cuthrell
The first time I went to Antwerp, Belgium, I was 23-years old, fresh out of law school and backpacking around Europe for a few months with my brother before starting my grown-up life. Now in my 50's, I still vividly remember being awestruck by the spectacular train station and the diamond district bustling with Hasidic businessmen in their long coats, beards and side curls.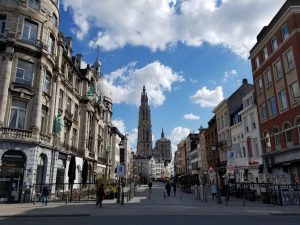 When one of our first house- and pet-sitting gigs took me back to Antwerp nearly 30 years later, it was the start of a great friendship and a love affair with Antwerp. Since that return trip over two years ago, my husband and I have been making Antwerp our home-away-from-home twice a year. This beautiful Flemish city has so much to offer, but manages to escape the hordes that descend on neighboring Brussels and the smaller tourist favorites of Bruges and Ghent. The city is clean, friendly and easy to navigate. Although the locals speak a Dutch dialect, English is widely- and fluently-spoken. Antwerp also makes a great base to explore Belgium, Holland and northern France by car or train.
Although nowadays, neighboring Brussels receives more attention, in the mid-16th century, Antwerp was the richest city in Europe and one of the most powerful. That Golden Era is reflected in Antwerp's magnificent central square dominated by City Hall (Stadhuis) and surrounded by narrow, Dutch-style buildings topped with golden figures representing the guilds and businesses once housed there. A statue of mythical hero Brabo stands in front of the Stadhuis, holding aloft the severed hand of a giant once said to terrorize the town. A hand is now the symbol of the city and the shape of popular chocolates and cookies.
The square and the rest of the Old City abound in charming cafes, restaurants, chocolate shops and some of the best beer bars in the world. As any beer connoisseur will tell you, Belgium is beer nirvana. The place we think of as "our beer bar" and where we wine-drinkers became fascinated with the craft and history of beer is Gollem, a friendly cafe with a view on Antwerp's main square, 30 beers on tap and a sizeable supply of bottled beers. Some blocks away, we also love cluttered, cosy Kulminator which offers 900 beers and specializes in aged Belgian beers. Kulminator has a world-wide reputation. It's a pilgrimage site to certain beer-lovers and an easy place to make beer friends from all over the world.
Painter Peter Paul Rubens called Antwerp home. He began construction on his Italianate villa and studio in 1610 and the Rubenshuis is now a fascinating museum with tooled leather walls and period furniture. We've also come across Ruben's paintings in the soaring Cathedral of Our Lady and in many churches and museums around Antwerp. For a change from classic art, the ultra-modern MAS Museum seeks to tell the story of centuries of contact between this important port city and the world. The multi-story museum offers a cafe downstairs and a gourmet restaurant upstairs plus great views from its roof of the city, river and port. Boats on the River Sheldt offer tours of the immense modern port as well as trips to neighboring towns. Nearby, the Red Star Line Museum, located in an original shipping line warehouse, recreates the experience of intrepid emigrants who left Europe from Antwerp to begin new lives in America and Canada.
Getting there: Although Antwerp has a small airport, visitors from North America fly to Brussels. It's an easy 30-minute train ride from the station located beneath the Brussels airport. Buy your train ticket online in advance (£11.60 per adult each way), print, and swipe the bar code at one of the automated turnstiles. Trains run frequently between Brussels and two stops in Antwerp. Antwerpen Centraal is the main train station.
Find lots more about Antwerp on my blog at www.wanderwiles.com. Look for more about Antwerp and Belgium when we return in October.
Tamara Tejml Cuthrell and her husband have traveled to 42 states and 67 countries on 5 continents, and now travel 40-60% of the year, interspersing independent travel with pet- and house-sitting. She also lived in Paris for a total of 5 years. Contact Tamara at [email protected]