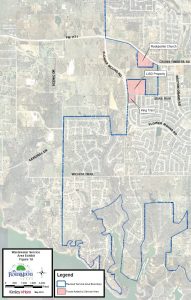 Flower Mound Planning & Zoning commissioners on Monday night voted 5 to 1– Brad Ruthrauff was the sole nay vote– approving the recommendation that the Town Council move the east boundary line for the 5,690-acres of the Cross Timbers Conservation Development District (CTCDD) to Flower Mound Road.
The current eastern boundary line was set during the 2013 Master Plan revision and will affect 158-acres, including the 17-acres of RockPointe Church. Instead of continuing "to draw lines in the sand," there would be a line made of concrete.
The CTCDD boundary line issue was raised during the Aug. 7 council meeting related to the agenda item for a new campus location for the Responsive Education Solutions public charter school in Flower Mound, Founders Classical Academy, on 19-acres at the southeastern corner of the Flower Mound and FM 1171 intersection; inside the CTCDD.
The only sticking-point was the school's request to hookup to the town's wastewater system, which ultimately led to council members asking town staff to create the necessary document for consideration by the P&Z Commission to change the boundary.
During the Aug. 7 council meeting, Deputy Mayor Don McDaniel, who voted to deny the wastewater request, said: "For years, when I was on P&Z, I've argued that the line for the CTCDD is in the wrong place. Back when it was set … I always felt it was less about the environment and more about stopping growth."
Commissioner Laura Dillon echoed his stance, saying: "I think that the original, jagged cut-out line was a "land grab" that was drawn upfront, because it was easier to do it then, instead of later."
Commissioner Dave Johnson pointed out that the CTCDD was created 16-years-ago, before Wellington was built, before Liberty Elementary School was built, before FM 1171 was widened and changing the border to Flower Mound Road just made sense now.
"We need to do this and move on," he said.
Town Council is set to address this during its Sept. 5 meeting.