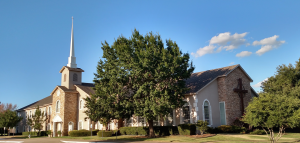 A Flower Mound church is celebrating its 30th anniversary with a big, free festival open to the entire community.
Trinity Presbyterian Church, 5500 Morriss Road, will have regular worship services at 8:30 a.m. and 11 a.m. on Sept. 24, but the church will also put on a huge event that afternoon.
TrinityFest will have live music, food, games, bounce houses, an obstacle course, Zorb ball and a nonprofit fair from 1-5 p.m., and the entire community is invited.
Trinity's first service was held the last Sunday in 1986, and a year later it moved to its current location and was organized and chartered with 103 members.
"It is with thanksgiving and praise that TPC celebrates its 30th anniversary of organization and charter," a church news release said, inviting the community to visit the event and its services.