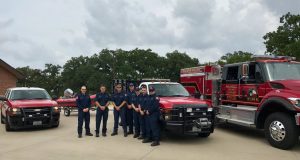 The Flower Mound Fire Department has sent a second team of seven firefighter/paramedics to help in the areas hit hardest by Hurricane Harvey.
The crew traveled to the Houston area Sunday afternoon and took Fire Engine #2 along with their rigid inflatable boat.
Houston and other parts of southeast Texas are experiencing "catastrophic, life-threatening flooding," federal officials said Sunday, as Harvey, now a slow-moving tropical storm, hovers over the region, dumping copious amounts of rainfall.
Some parts of Texas could receive up to 50 inches of rain in the coming days, an amount that would exceed state records.
"This event is unprecedented," the National Weather Service said in a message posted to Twitter. It's "beyond anything experienced."
Flower Mound is leading a larger strike team comprised of emergency personnel and equipment from Lewisville, Lake Cities Fire Department, The Colony, and Southlake.
The department's initial deployment to southeast Texas on Thursday morning included Flower Mound's AMBUS (ambulance bus) and seven firefighter/paramedics.
"We are here to serve and are looking forward to making a difference in these hard-hit areas," said Brandon Barth, spokesman for the Flower Mound Fire Department.
Follow their progress here.