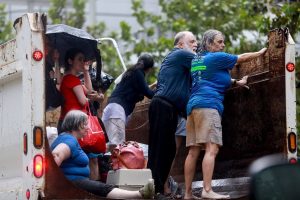 Southern Denton County residents have many different ways to help the victims of Hurricane Harvey.
Harvey, which made landfall Friday as a Category 4 hurricane and then lingered just off the coast as a drenching tropical storm, sent devastating floods pouring into Houston. The rising water forced a mass evacuation of parts of the city and overwhelmed rescuers who could not keep up with constant calls for help.
People across the country, and right here in North Texas, are pitching in to help the victims.
A donation drive has been organized at Liberty Christian School, 1301 South Highway 377, Argyle. Organizers are gathering items and will deliver them to Houston early next week, pending weather and travel conditions. All donations can be dropped off at the school.
Here are the supplies needed:
Water

Gatorade

Big black trash bags

Pet food – small bags

Work gloves

Latex gloves for cleaning

Bug spray

Plastic bins

Small first aid kits

OTC medicine – Aspirin, Benadryl

Diapers

Baby wipes

Hygiene items

Tarps

Buckets

Cleaning supplies

Clorox wipes

Bleach

Paper towels

School supplies

Car seats

New school clothes

Gift cards – Amazon, Walmart, Home Depot, Lowe's
The State Farm office in Bartonville Town Center is collecting supplies to take down this weekend: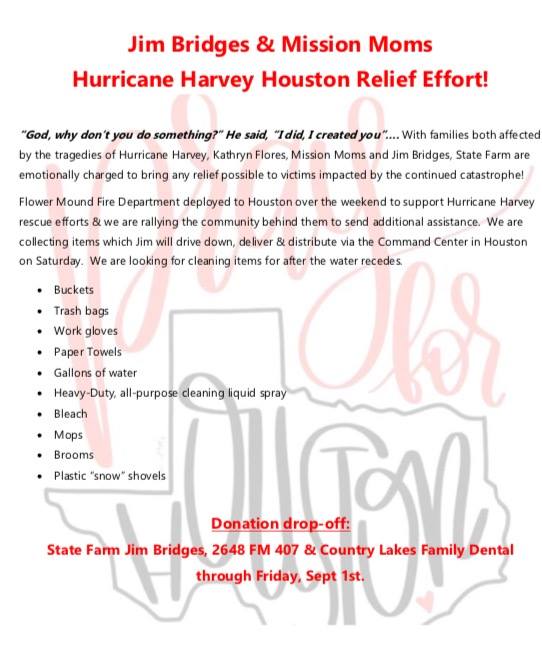 Denton County State Representative Tan Parker is be using his District offices for donation drop-offs. All four county representatives are personally renting a U-Haul and will ensure the donations get to the shelters in Houston. Here are the supplies most needed right now:
Toiletries (toothpaste, toothbrush, soap)
Bottled water
Individually packed foods
Pillows
Blankets
Diapers
Underwear
Socks
Undershirts
You can drop off supplies now through 3 p.m. on Friday, September 1, at:
Rep. Tan Parker
800 Parker Square #245
Bldg 800
Flower Mound, TX 75028
The Town of Flower Mound is working cooperatively to provide assistance with personnel and several pieces of equipment. Town officials have been advised the fastest and easiest way you can help right now is through a financial donation to your charity of choice, such as the American Red Cross, The Salvation Army USA, North Texas Food Bank, Trusted World, Austin Pets Alive! and other reputable charities. This list is definitely not inclusive.
Trusted World, a nonprofit based in Allen, is also collecting donations. You can drop off items at 15660 Dallas Parkway in Dallas from 8 a.m. to 6 p.m. daily. Trusted World is seeking the following supplies:
New underwear and socks (all sizes)
Non-perishable food
Toiletries
Feminine hygiene products
Baby diapers, wipes and formula
Now through Sept. 11 Market Street customers can support the relief effort underway from the American Red Cross by adding a financial contribution of $1 or more to their bill during checkout.
Moviehouse & Eatery Flower Mound is donating 5 percent of ticket sales this weekend to Austin Disaster Relief Network, and the theater is accepting donated items.
You can also help by texting "HARVEY" to 90999 to donate $10 to the American Red Cross' efforts in Houston.
You can also donate to The Salvation Army. Text STORM to 51555, visit helpsalvationarmy.org, or call 1-800-SAL-ARMY.
Here are some more ways to help.
Want to add anything to this list? Please email us.