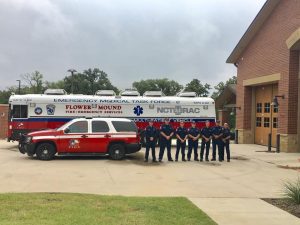 Some of Flower Mound's first responders left Thursday morning to help out South Texas residents impacted by Hurricane Harvey.
The hurricane in the Gulf of Mexico is expected to make landfall near Corpus Christi around 1 a.m. Saturday as a Category 3 hurricane, and government officials have warned residents of the potentially dangerous and destructive major storm.
Flower Mound's AMBUS was deployed this morning as part of a State Mission Assignment for hurricane emergency response, the Flower Mound Fire Department posted on social media. The AMBUS, along with seven FMFD firefighter/paramedics are headed to San Antonio, where they will stage with other Emergency Medical Task Force assets that are deploying from across the state.
These EMTF resources will be utilized as needed within the region as directed by the State Operations Center. Likely uses of the AMBUS include the evacuation of hospital or nursing facilities, or for any mass casualty incidents that may arise during or after the storm. A fire department Tahoe will accompany the AMBUS and will assist with any necessary tasks.
Prior to departure, firefighters/paramedics ensured they had all the necessary supplies and that all equipment was working properly and stowed correctly to have a safe trip.