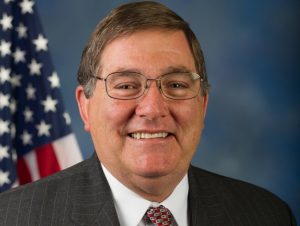 The United States Congressman for Denton County is looking to publicly recognize local veterans.
U.S. Rep. Michael Burgess of the 26th District of Texas is sponsoring a "special salute to honor local veterans," according to a news release from his office. Between now and the Sept. 18 deadline, Burgess is welcoming nominations from the community for the 26th Congressional District Veteran Commendation "to preserve their stories for future generations of Americans."
A local veteran is eligible if he or she is a current resident of the 26th District of Texas — which is nearly all of Denton County and some of northern Tarrant County — if he or she served and was honorably discharged from the U.S. military and has demonstrated commitment to service in the community. To nominate a veteran, fill out the nomination form and send it and additional information about the veteran's service to Burgess' Lake Dallas office, 2000 South Stemmons Freeway, Suite 200, 75056.
Burgess will publicly recognize those individuals selected to receive the
Congressional Veteran Commendation at the annual Highland Village "Salute
Our Veterans" luncheon on Nov. 10. Click here for more information and to find the nomination form. You can also contact Burgess' deputy district director, Robin Vaughan, at 940-497-5031.