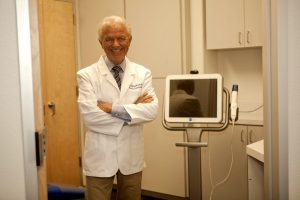 Good thing for the people in and around Flower Mound that Dr. Robert Borkowski didn't listen to a friend who told him to "just float casually downstream" when he mentioned wanting to return to a solo orthodontist practice.
"I came to realize this is my life. This is what I love," said Borkowski, who opened Renown Orthodontics in February at 2851 Cross Timbers Road, close to Lifetime Fitness. "I'm still so passionate about it. I still wake up in the middle of the night with ideas of things I want to discover and investigate. It's so important to me. It's the reason why I know I will go on practicing."
Borkowski originally wanted to work for two decades on the East Coast and the same on the West Coast before deciding where to retire. He reached the first goal after practicing and teaching in the metropolitan Washington, DC, area for 19 years. Once he met and learned about people from the West Coast, and after speaking with an orthodontist from Carrollton looking to retire, he decided to come to Texas instead.
"I'm really glad I decided to come to Texas," he said. "This year marked being in Texas longer than in Maryland."
Thinking he wanted to retire early, he sold his private practice in 2009 and joined a group practice in Lewisville and Garland. When he decided he missed being on his own, both a fellow orthodontist and a dental headhunter recommended the Flower Mound location.
While other orthodontists have received the same basic clinical training as Dr. Borkowski, he has spent a career focused on research and teaching, and has been invited by people from more than 30 countries to speak to them on the latest techniques. He's also spent many hours researching the newest trends.
That means Dr. Borkowski not only knows traditional treatment methods but also the newest approaches. These include Invisalign aligners, which move teeth nearly invisibly, without braces, and which is especially good for adults and those in their late teens seeking treatment.
For those problems needing more technically advanced movement, he has pioneered and been instrumental in the continued development of the Damon bracket system, which helps to allow even the most complex problems to be resolved more quickly and with less discomfort.
He practices those methods at Renown Orthodontics on Mondays, Wednesday evenings, and Friday mornings, He's having fun doing it all.
"Now, I'm realizing I kind of have a second wind and realize it's still my passion," he said.