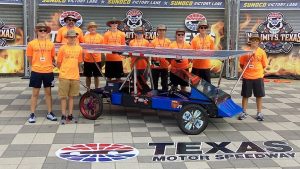 Coming in just 52 laps behind first place, Liberty Christian's Solar Car Team logged more distance than ever before in the Solar Car Challenge at the Texas Motor Speedway last month, coming in a close second in the Advanced Division.
What has been called the ultimate brain sport, a team of 10 Liberty Christian students and teacher sponsors took learning outside the classroom to grow in their engineering knowledge of alternative energy.
"This year's finish is the best we've ever done," said Dr. Brent Dragoo, sponsor. "We've improved our energy management, decreased our rolling resistance thanks to aerodynamics, and worked well together as a team from start to finish – we had a great time!"
The Solar Car Challenge began in 1993 as a high school extra-curricular program but evolved into what is now the Solar Car Challenge Foundation that brings in students from all over the world. Students work in teams and apply engineering and technology skills to build or refine a car powered solely by the sun.
The challenge runs a 15-month education cycle for students that teaches high school students how to plan, design, engineer, build, and race roadworthy solar cars, which is accomplished through six national teaching workshops, on-site visits, curriculum materials, and summer camps.
All of the learning culminates in a closed-track event at the world famous Texas Motor Speedway or a cross-country race designed to give students an opportunity to show the country the product of their efforts.
As of 2017, 181 high school in 36 states, plus Canada, Mexico, Puerto Rico, Costa Rica, and the Bahamas took part in some phase of the Solar Car Challenge Education program. Top teachers from across the country put their minds together to make the Solar Car Challenge one of the most engaging and motivating high school science programs in existence today.
Liberty Christian students also achieved another honor, making their teachers even prouder than their second place finish. At the awards ceremony on July 22, students learned that they won the Sandt Award for displaying the true spirit of solar car racing through distinguished service to their fellow teams.
Upper School Principal Heather Lytle said, "Our students demonstrated the Warrior Way to other teams as they provided their know-how and time to other teams who were preparing for the race.
"They truly showed we are all a big family in solar car."
In the final days prior to the start of the race, students spent time at the track making final preparations to their car during "scrutineering" July 16–July 18. Liberty students passed scrutineering early on the second day, so the remaining day and a half of scrutineering gave them time to reach out and help other teams.
Middle School Science Department Chair Sue Gallo said, "Our students made Liberty history with more laps than ever before, but I believe winning the Sandt award is the greatest honor awarded.
"Our team put in extra hours, provided materials, and did whatever it took to help other teams get to the starting line. They literally rewired another team's car so it would pass scrutineering and be able to race.
"It is a marvelous, overwhelming feeling of pride for me to watch the students I taught in sixth grade model what it is to be hard-working, selfless, mature young men."
Mrs. Gallo added that the Sandt award is given in honor of a man who has been a part of solar car from the beginning and could always be found in other team's bays helping in any way he could.
She said that the team winning the Sandt award reminded her of the Bible verse in Acts 20:35 that says, "In everything I did, I showed you that by this kind of hard work we must help the weak, remembering the words the Lord Jesus himself said: 'It is more blessed to give than to receive.'"
She added, "I truly feel our team walked away not only knowing this word from God but also feeling it deeply. I know this experience impacted all of their lives."
In addition to working on the car and raising monetary support, the team gathers throughout the year nearly 20 documents to submit to the Solar Car Challenge, such as the mechanical drawing, electrical schematic, wheel information, and battery, solar cell, motor, controller, main fuse, and disconnect switch data sheets.
Team members included Ryan Allison, Austin Graves, Gabe Graves, Maximo Gutierrez, Austin Hunt, McLaren Kenway, captain George Marye, Connor Robbins, Luke Rosprim, Raleigh Tobben, and McLaren Wang. Mr. Evan Hunt served as a coach with Dr. Dragoo, and Mrs. Jamie Michalek served as a team chaperon along with Mrs. Gallo.
Dr. Dragoo said, "In solar car, our students gain experience and skills in mechanical and electrical engineering, time management, project management, confidence, ingenuity, imitative, battery management, ingenuity, and teamwork."
Team members invited the Liberty family to the Texas Motor Speedway to see the race, and they hosted an ice cream social at the school for all of the solar car teams.
In the three days of racing on July 20–22, students logged 382 laps around the speedway totaling 573 miles, more than they ever had before.
In past years, Liberty's Solar Car and its students have raced in Australia's outback for the World Solar Challenge in 2015 and in the Solar Car Challenge to states as far away as Minneapolis and California.
Liberty plans to compete again in the Solar Car Challenge in 2018 in another rally race to California and then again in the World Solar Car Challenge in 2019 in Australia.
They have a lot of money to raise first, as the car the team currently runs has about run its course. Students hope to race it one more time next summer to California but will need to start from scratch for Australia.
Mrs. Lytle said, "Teams we have had in the past left us in good hands as they trained our younger students. Our solar car team is alive and well, but it needs big supporters – individuals and companies who can give $5K to $10K toward our program – as our students present to companies, provide education, and reach out the community to raise more than $200K for the car and the upcoming Australia race."
She added that racing 103 laps in just one day this year at the speedway was huge. She gave kudos to the team and McLaren Kenway who taught himself 3D animation in Solid Works, an engineering software, and calculated battery power every lap of the race so students could conserve battery at a slower pace on the track without stopping, a monumental achievement for the team.
Dr. Dragoo said, "There is not a lot left in our current car, but our goal is to keep it in shape for the California race to San Jose and to display at Earth Day and car shows as we show-and-tell and connect with others invested or interested in these great learning opportunities for our students."
Dr. Dragoo was asked by a solar car team in Mexico to teach students there how to build a car. Even though he was not able to go, he's glad the Liberty Solar Car Team is gaining a reputation around the world. The school was one of the few high schools who participated in the World Solar Car Challenge, which enabled his students to learn solar car technology and innovation from top university students from America at Stanford and Michigan, and all over the world from Germany, Japan, and Sweden.
He says there is not a day that goes by that he does not think of the solar car and how to make it better.
"It's a year-round obsession," he said." My dad is retired, and I hear from him frequently with ideas on how to make improvements too.
"The solar car is always on our minds."
Dr. Dragoo also wanted to thank students Austin Hunt and Luke Rosprim, saying, "They will do anything you ask them to do."
In the Solar Car Club at Liberty that meets after school, Dr. Dragoo encourages students to get involved, both boys and girls, and said most of his students go on to major in engineering in college.
"This program at Liberty sets them ahead of other entering college students," he said. "I recently heard from alumnus Neiman Walker and his success in Solar Car at Cal Poly."
As early as next month, the Solar Car Challenge will host a "New Teams Workshop" that will provide mini courses on electrical and mechanical engineering, as well as building a solar car and planning for the race to California next year.
In October, it will lead a workshop on materials technology, how to develop useful schematics and mechanical drawings, and ways to market and raise funds for a solar car project.
In January 2018, it will provide a more detailed workshop on electrical and mechanical engineering for solar cars, battery technology, aerodynamics, and race rules.
Judges training and team check-in kicks off July 13 next summer, and scrutineering begins July 14, with the first day on July 17 and the race-ending awards day on July 23.
Due to the growth and success of the Solar Car Challenge, Technology & Learning magazine recently named the Solar Car Challenge "One of America's Top 10 Most Innovative Education Programs."
A magazine official said, "Choosing 10 top projects from the hundreds, thousands, and probably millions out there, is of course, nearly impossible.
"Despite the somewhat eclectic selection of winners, common elements include authenticity, collaboration, and the use of critical thinking skills, global implications, in-depth investigations, and a very high student motivation and engagement factor."
The magazine went on to say that the projects it chose, including the Solar Car Challenge, are "compelling, worthy of emulation, and exciting examples of ways 21st century technologies are reinventing the concept of 'school.'"