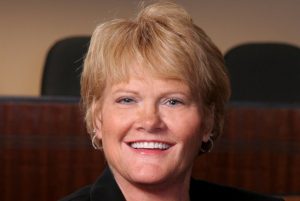 by Charlotte Wilcox, Highland Village Mayor
Summer break is nearly over and it is time to gear up for the start of a new school year. I thought this would be an appropriate time to have a Q & A with Officer Dave, our School Resource Officer.
Officer Dave, you are the School Resource Officer for all Highland Village schools. What does that assignment entail?
I am assigned to all four Highland Village schools and have an office at Briarhill Middle School. I spend most of my time at Briarhill but I try to make it by every school each day. On any given day I might be asked to do any of the following:
Mentor and council
Review school safety plans and make sure all school buildings are secure
Have lunch with students
Give presentations to student groups or classes
Meet with administrators, teachers, students, and parents
Investigate crimes committed by students and student outcries
Training officers on active shooter tactics
Overseeing school Crossing Guards
Most importantly, build positive relationships with students, school staff, and parents
What are some of the programs you oversee in each of the schools?
HVPD is very unique in their roll in the schools and we have some very impactful programs. The program that HVPD has been known for over the years is the LETS Program (Law Enforcement Teaching Students). The LETS program places uniformed officers in the classrooms of 5th grade and 7th grade students in Highland Village to discuss the importance of making good choices. In 5th grade students are presented with the importance of living a life of character by incorporating the six character pillar words (Respect, Responsibility, Trustworthiness, Fairness, Caring, and Citizenship) into their everyday life. We also cover decision making and how your decisions can affect your self-esteem, bully prevention and the importance of taking care of others, and the dangers of drug and alcohol abuse.
In 7th grade officers discuss the same topics but go more in-depth into how the choices you make can really start to affect your future and can affect your school and adult career. We also discuss what the real life consequences of drug and alcohol abuse and how chemical abuse can destroy their lives and the lives of their loved ones. Officers will interject personal success stories of making good choices and also talk about how making bad choices has impacted them in a negative way.
Another program that we are very proud of is the "Stand Up to Bullying" program. HVPD officers are committed to making sure that our city and schools are a safe and respectful place to live and take every opportunity to educate kids on the importance of being kind to each other. Along with year-round awareness and prevention of Bullying, HVPD takes the week before Thanksgiving Break to reinforce the importance of being kind and taking care of each other by visiting each school during lunch. Officers talk to students during their lunch and incorporate fun activities and giveaways to make it more exciting to be a part of the "Stand Up to Bullying" program.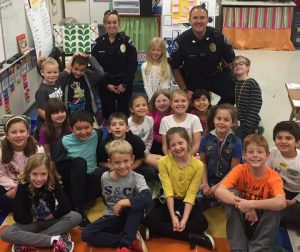 As we gear up to go back to school, what would you like to tell the students?
As we enter the 2017/18 school year I would like students to think about these four things:
Be Kind and Compassionate – Always think about how the words you speak or type can make those around you feel, remember that the way you say things can be hurtful even if you did not mean it to be hurtful. Keep in mind that you never know what might be happening in someone's life and that one kind word or gesture could change the way they feel.
Do the Right Thing – This sounds so simple but can be extremely hard when you are faced with difficult choices especially when you are being pressured by peers to make a bad choice. Remember that it will be easier in the long run to lose a friend and do the right thing than to make a bad choice and possibly have that choice affect your future.
Be Humble – Use your talents and abilities to help others and make a positive impact on your community instead of using those things to make others feel less than you.
Be Accountable – Surround yourself with people that will encourage you to make good choices and that are not afraid to speak up when you are not acting right.
Transitioning from elementary to middle to high school is often a nerve-racking time for our kids. What advice would you share with them?
This transition is probably the most difficult during a student's school career and the way you start your 6th grade year is very important. My advice to incoming 6th graders is to be confident and if you are not confident, appear confident. On the first day of school walk into the school with your head up high, your shoulders back, and make eye contact with others. Don't sit alone at lunch. I know that it is hard to make friends and put yourself out there but if you don't have someone to sit with during lunch ask an adult to help you find some students to sit with. It is better to ask for a little help than to start your year off alone.
Back to school time is important for the parents too. What can you share with them?
Remember that your student will face some tough choices and situations during the year and you are their biggest advocate. Make your home a safe place to discuss things going on in your students' life and assure them that you are there for them no matter what happens. Make sure that you know the kids they are hanging out with and make sure you know the parents and have a way of contacting them. Your student might not appreciate you being totally involved in their lives right now but in the long run it will benefit everyone if you know where they are and who they are with.
The Texas Legislature has passed laws that impact schools. Can you share that information?
We do not have all the details yet but in April the Texas Legislature passed HB 179 (David's Law) that makes "Cyber Bullying" a crime in Texas. We are working hard to get all of the information on this new law so that we can best protect our students from the effects of online bullying. We will be passing on more information when we have gathered what we need. Please remind your students to be good digital citizens when they are on social media.
What is a favorite memory or time for you as school resource officer?
There have been so many moments from the past few years but being a part of the lives of so many great teachers and students has been an honor. The friendships and the relationships that I have built over the years are so meaningful and I love when a former student walks up after being gone for a year or two and are so excited to share with me what is going on in their lives. It is just such an honor to be a part of everyone's lives.
What is your goal each day as you serve in our schools?
Each day when I get to work I hope that I can make difference in someone's life. In today's climate there is a lot of tension in some communities toward the police and I believe our presence in the schools helps to defuse any tension our students might be feeling because of things they have heard on the news or heard from people around them. Here is the Mission Statement from the Texas Association of School Resource Officers and it sums up what my goal is when I walk into the school. "We will work to provide safe learning environments; implement valuable resources and training to school based law enforcement, juvenile justice organizations, and school administrators; facilitate positive relationships between our communities and today's youth; provide resolutions affecting youth in crisis, to support the goal of protecting every child so they can reach their fullest potential."
I would like to thank Officer Dave for his commitment to our students and our schools. He does an amazing job with our kids, serves as a good role model and truly works to encourage and support our kids. Please remember as you go about your normal activities with school beginning that our kids will be walking the trails and sidewalks to get to and from school. Pay attention and watch your speed, not just in the school zone but throughout the City. And now, as we're on the last few weeks of summer break, enjoy the time with your family and friends. Each day is a gift and an opportunity for a special or memory making moment.