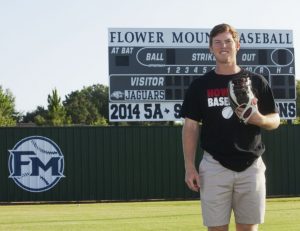 Mark Twain once wrote: "It's not the size of the dog in the fight; it's the size of the fight in the dog."
At 5'10" and 175 pounds, Flower Mound High School's Lance Russell is a good-sized man in nearly all walks of life.
But, Russell has had to fight for the respect he rightfully deserves in the sport he loves, all the way up to his signing day with Howard Junior College in West Texas this past school year.
The Jaguars third baseman has been regarded as one of the best baseball players in the Metroplex the last two seasons, but when it came where he would play his college ball, he opted for Howard.
"Lance is a definite D1 player that was ignored due to his size," Flower Mound High School baseball coach Danny Wallace said. "He will be great at Howard, and the big schools will come calling. They really missed on him."
Russell hit .400 for Flower Mound– with three home runs, 14 doubles and 29 RBI in his senior season– to help lead the Jaguars to a regional quarterfinals appearance.
The Flower Mound graduate said he has always tried to bring energy to the team and said he was pleased to finish out his high school career with such a strong year in 2017.
"This season was one of the most memorable seasons I've had in my life," Russell said. "I had a lot of fun playing with my teammates and playing for my coaches. We didn't get the outcome we wanted, but the season as a whole was very successful."
Russell echoed his coach saying he is not angry he was overlooked by some Division I schools due to his size, saying he is happy he gets to play collegiate baseball. But, he added it does add to his determination to show the college baseball world what he is a capable of on the field.
"It gives me a lot of motivation to show that I can play with anybody," Russell said. "I'm not mad about it; just excited I get to play at the next level. I will just do my thing at Howard and see where my future takes me."
Russell was considering Baylor, Texas Tech, Kansas State and the University of Texas at Austin to name a few, but said he based his decision to sign with Howard on two factors.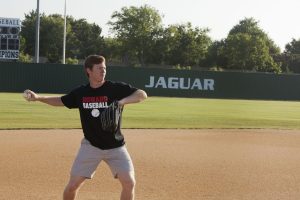 "I decided to go to Howard Junior College, because I love the coaching staff," Russell said. "They're a great college and always extremely talented."
Russell does not plan to rest on his laurels from high school, however, saying he plans to work hard during the fall and winter to bulk-up and be at his best by the time the 2018 baseball season begins.
"I plan on getting stronger this offseason," Russell said. "I'm trying to put on some weight, before going to Howard."
Wallace said that the contributions Russell made to the Flower Mound baseball program cannot be overstated and said he is the sort of teammate other players should strive to be.
"Lance is what our program is about," Wallace said. "He exemplifies hard work, being a great teammate and was always striving for excellence on the field while being a great representative of our team off the field."
Russell said he is looking forward to his time at Howard, but added that is ultimate objective does not end at the college level.
"I want to take baseball to the highest level and make it to the big leagues," Russell said.
His former coach thinks that is definitely achievable.
"That's always possible with a player that hits like he does," Wallace said. "I wouldn't be surprised at all if he plays past college."