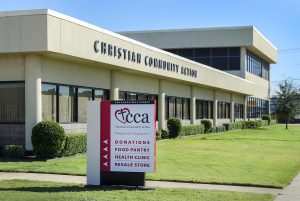 Christian Community Action is seeking donations for underprivileged children who will soon be heading back to school.
"For families who are struggling, it is a difficult time filled with the stress of paying for school fees, supplies and other expenses including school clothes," said a news release from CCA. "In many cases, students in need can attend school without school supplies and can receive donated items. However, they do not receive new clothing."
CCA is seeking new clothing and backpacks for children in need. Last year, the organization aided more than 800 children with new school clothes — families were given cash and Old Navy gift cards to take their kids shopping.
"For children in need, a simple gift like new clothes can change their whole outlook and help provide a boost of confidence to begin school," the news release said.
To donate to CCA's Back to School program, you can make a cash donation on the organization's website or you can drop off cash or Old Navy gift cards at the organization's office, 200 South Mill St. in Lewisville.
Shopping days began Monday but CCA will continue collecting donations for back to school clothing through the end of August.
For more information, click here or call 972-219-4318.