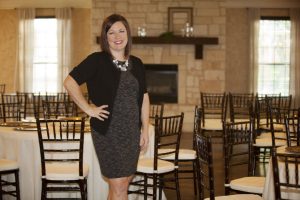 A new Highland Village business owner wants to embrace the local community and invite everyone to an open house at her new event venue, The Union.
Sarah Halterman, the venue's owner and manager, has spent nearly a decade in the event industry, but last year she sold her McKinney bakery with hopes to run a new event venue.
She saw the wedding venue 9 Social in Highland Village was for lease, and found it to be the perfect size for the area. It seats up to 120 people, but its "sweet spot is about 80 or 90," Halterman said.
So after making some cosmetic changes and updates to the elegant venue at 2300 Highland Village Road, Halterman opened The Union in March. Now, she wants to invite the community in to check out her space.
The open house will be Aug. 20 from 2-5 p.m. and will have complimentary food and beverages, door prizes and about a dozen local vendors.
The Union is a versatile 3,300-square-foot event venue designed with a neutral, warm color palette, textured walls, beautiful stone accents and floor-to-ceiling drapery.
Halterman said The Union is not just for weddings, but it's also the ideal size for rehearsal dinners, engagement parties, corporate events, birthday parties and other social gatherings.
The Union was named not just for the union of marriage, but also the unity found in corporate events, milestone anniversaries and birthday parties.
The venue is equipped with WiFi, a spacious private lounge and nicely appointed restrooms. It has multiple floorplan configurations, an open vendor policy, an on-site venue manager and a caterer's kitchen with a refrigerator and icemaker. Guests are accommodated with ample parking space and convenient handicapped accessible entrances. There's an elegant outdoor space with a picturesque fountain.
Visit www.theunionevents.com for more information, or call Sarah Halterman at 214-960-7215 or email her at [email protected].