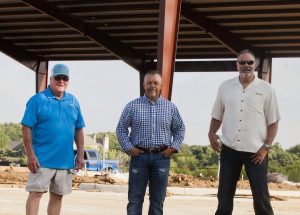 A restaurant with the rugged luxury of the Texas Hill Country is headed to Bartonville's backyard.
Opening in the fall of 2017, Marty B's new restaurant will be a welcoming place with a modern ranch atmosphere to kick-back and make lasting memories in Phase II of Bartonville Town Center on FM 407, opposite the Lantana residential development.
Owner Marty Bryan of Highland Village has had a twenty-five plus year career in the restaurant industry.
"I started at Outback as a line cook and worked my way up the ladder and then helped a Cotton Patch Cafe owner grow from 13 restaurants to 45," he said.
When Bryan was ready to look for a suitable location for his own new restaurant, he was told to contact Todd Weaver of Weaver Commercial Real Estate by Keith Francis of Francis Commercial Builder and Construction.
"My son and Keith's are friends from school, so I knew and trusted him," said Bryan of Francis.
At the other end of the three-way business interaction is local commercial real estate agent Todd Weaver, who has been friends and a development partner with Francis for many years.
"It's been a pleasure to work with Keith all my life," said Weaver. "In fact, his mom worked for my dad back in the '60s. Keith and I have completed several ground-up developments in Flower Mound, Highland Village, Lewisville and now Bartonville."
Unaware that the initial restaurant sites they were considering in Argyle were already targeted by the Waterbrook development, Bryan and Weaver moved on to Bartonville; where they struck gold with an offer to purchase a portion of land in Bartonville Town Center.
"The sellers were wonderful to work with, as was the staff of Bartonville," said Weaver.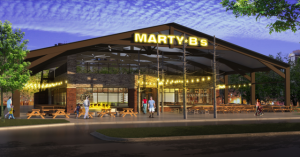 Bryan closed on the site and begun construction on his dream restaurant. The 10,700-square-foot facility is being built on 2.2-acres with 6,700-square-feet of covered space. It will feature a rustic Austin-stone exterior, seating capacity for 200 inside, with an indoor/outdoor bar area, plus a rooftop patio for private functions and a stage area for live music.
After dinner, people can kick-back and relax at community fire pits for S'mores, storytelling or listen to the sounds of Texas. Marty B's performance calendar will be filled with live music of local legends, up-and coming acts, or the occasional import from Austin, Nashville and beyond. That same area will also have a huge-screen television for sport-event watching when music events aren't playing.
The menu will feature in-house, freshly-made Texas specialties from steaks and BBQ to Tex-Mex and craft beer. There is also lighter fare, with smaller portions for small folks.
There'll also be a game area people can utilize– cornhole and washers– while waiting to be seated.
For more information, visit: martybsplace.com.