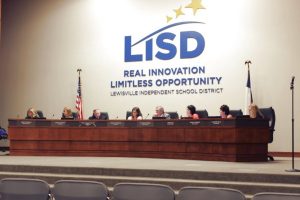 The Lewisville Independent School District Board of Trustees has drafted eight position statements for the Legislative Special Session relating to public education on Texas Gov. Abbott's agenda.
Abbott identified 20 priority statements that he would like to see addressed during the 30-day special session, which began on July 18. The Lewisville lSD Board of Trustees adopted legislative priorities in advance of the regular session, according to a school district news release. The following statements are specific to the education-related priorities as defined by the Governor.
Many of the Governor's  items for the special session revolve around funding our public schools, such as the possible creation  of the Texas Commission on Public School finance, teacher salary increases, a new state subsidy for private  schools, and property tax reform. Passing each one of these items individually will keep school finance fractured and will exacerbate current  public school funding  and state budgeting issues.
LISD advocates for a study of the true cost of education  and the creation of a new funding formula to support student  learning. The formula  must begin with an analysis of student needs and the requirements created by the state. Such a study should be completed before the 86th Legislative Session. Only after this needs assessment is complete  should the commission begin its work to revamp the current  finance system so it will not continue to rely on the ever increasing local property valuations.
LISD advocates for legislation  that evaluates the expense caused by unfunded mandates.
LISD advocates for local control in salary structures  to determine which classroom teachers and what pay make up that structure and opposes a change in the finance structure that redistributes local budgets according to statewide incentives.
LISD opposes any plan for vouchers, education saving accounts, tax credits, taxpayer savings grants, tuition reimbursements, or any other program that diverts public funds to private entities for education with little to no academic or financial accountability especially before the Texas Commission on Public School finance has a chance to evaluate the effects of such legislation.
LISD advocates for property tax reform  that analyzes its impact on student funding in the classroom.
LISD opposes the targeting of teacher professional group deductions  as a way to quiet the advocacy provided by these groups.
LISD advocates for the continued use of local control to make individualized plans to manage all of our students' safety.