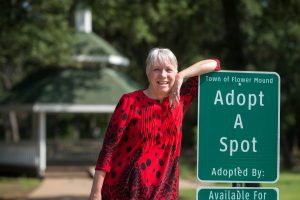 "Last year, we collected 15,000-pounds of trash," said Marilyn Lawson, president of Keep Flower Mound Beautiful since 2009. "Our big events are our biannual Trash Offs & Environmental Fairs. One is held during the spring and one in the fall."
Thanks to the efforts of Lawson and Keep Flower Mound Beautiful (KFMB)– a group of volunteers dedicated to preserving Flower Mound's beauty– the Town of Flower Mound is one of only 10 recipients of a 2017 Governor's Community Achievement Award (GCAA) in its population category.
The state's Keep Texas Beautiful (KTB) determines which communities receive the annual GCAAs and a share of the $2-million for funding from the Texas Department of Transportation (TxDOT) for landscaping beside a local state right-of-way.
To be considered for this prestigious award, KFMB submitted information to KTB about its achievements in seven areas, including: community leadership and coordination; education; public awareness; litter-prevention and clean-up; litter law and illegal dumping enforcement; beautification and community improvement; and, solid-waste management.
"TxDOT will do $250,000-worth of landscaping for Flower Mound on a project KFMB plans," said Lawson.
Lawson announced receipt of the GCAA award at the Flower Mound Town Council meeting as an accompaniment to a presentation she gave Tuesday, June 6, 2017.
"We will give a presentation every year to the Town Council to keep them informed of our activities, since we receive funding from the town and want them to know what we are doing," she said.
KFMB, which receives one-percent of the town's budget, had a full-time staff member until 2008, at which point the organization separated from the town. When Lawson became president of KFMB, she learned that a GCAA had never been pursued and she set out to remedy the situation.
Lawson explained that KFMB has now applied for the GCAA award three-years in a row.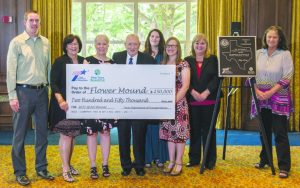 "On the application, you must include all of the activities aimed at beautification undertaken in the community at large," she said. "This includes ones churches and the Scouts do. The first year filling out the application was hard, but the second year was harder; because we knew what we needed. The most grueling part is getting all of the statistics together."
KFMB is a very productive group.
For the spring 2017 Trash Off & Environmental Fair, volunteers were asked to pre-register for exact locations, such as large groups to Merrill Park.
Volunteers gathered at 8:30 a.m. at the FM 2499 Home Depot and collected trash until 10 a.m. For each bag of trash participants brought back, they received a ticket for the door-prize raffle. Also, the volunteer who brought back the most trash was awarded a prize.
The set procedure is for volunteers to return to the main venue and then may join other volunteers at the Environmental Fair, which has various booths.
In the past, Shred-It shredded citizens' unwanted papers, while Best Buy collected electronic waste. Last year, Shred-It collected 15,000-pounds of shredded paper.
"Our on-average 400-volunteers are provided with lunch," said Lawson.  "One year, In-and-Out Burger contributed lunch. Another year, the Summit Club handed out hot dogs."
Traditionally, the Trash Off & Environmental Fairs have been held at Home Depot, however, the 2017 fall event, on Saturday, Sept. 23, will take place at Flower Mound High School at 3211 Peters Colony Road.
"Now, the events will be more than trash events with recycling opportunities," said Lawson. "They will also offer education stations, including ones on water conservation, composting and native plants. All of the stations will have hands-on activities."
Another noteworthy project of KFMB is the Adopt-A-Spot Program, which the group began administering for the town in 2012.
According to KFMB's website, www.kfmb.org, the Adopt-A-Spot program encourages and supports citizens and groups who volunteer to work on: "beautification projects and litter clean-ups of designated public areas at regular intervals."
The volunteers may also participate in the establishment of permanent features such as gazebos, park benches, picnic tables, fountains and sculptures in parks or large-scale beautification initiatives.  In return, the town installs signs displaying the name of program participants in the affected areas.
Besides the Trash Offs, KFMB directs intermittent clean-ups and holds classes on subjects, including composting, that help beautify Flower Mound.
"We now sponsor a Monthly Cleanup," said Lawson. "Every third Saturday of the month, we list a location on our website. No registration is required and we pick up trash from 9:30–11:30 a.m."
In addition to KFMB earning a GCAA award, Lawson was awarded KTB's Volunteer of the Year Award for the State of Texas.
"At first, I was not that excited about winning the award, but now I'm very excited since I appreciate the acknowledgement of my work," she said.
Lawson, who grew up in Ontario, Canada, and lived in California for many years before landing in Texas has not only donated countless hours to KFMB, but could be labeled as a "professional" volunteer.
She is a member of The Mound Association Board and the Environmental Association, plus is the founder of KFMB's Lend-a-Hand Community Enhancement Initiative, which assists residents who may be unable to complete home repair projects, because of age, illness, or income loss.
The idea for the Lend-a-Hand Community Enhancement Initiative came from Mayor Tom Hayden, who wanted to ensure that citizens who need help will receive it. Since Lend-A-Hand's inception in 2013, it has completed 29 projects, many of which have helped veterans.
The projects range from the mowing lawns, the installation of new siding and fences, as well as the completion of new landscaping.
"Our first recipient was a Vietnam veteran who had been exposed to Agent Orange and had contracted hepatitis in a hospital stay," she said. "Our biggest problem is obtaining skilled labor."
She is also the main volunteer of the Community Service Program, which enables individuals who are required to complete community service hours, to do so by collecting trash in Flower Mound. Lawson's Community Service Program has served as a model for other cities. The hours and work are tracked to ensure compliance.
KFMB was presented with its GCAA at a dinner, during Keep Texas Beautiful's 50th Annual Conference in San Antonio on Tuesday, June 13, 2017.
"In addition to KFMB members attending, town staff are coming, too," Lawson said prior to the ceremony. "Flower Mound received a third-place award for a video on illegal dumping."
Lawson was presented with her Volunteer of the Year award during a luncheon on Wednesday, June 14, 2017.
Anyone interested in joining Lawson and other KFMB members, call 469-828-9074, or visit: www.kfmb.org.
The local Tom Thumb and Kroger support KFMB through their rewards cards. The KFMB website has a Kid's Corner, which encourages children to help the town's environment by emphasizing the importance of recycling and how they can recycle.