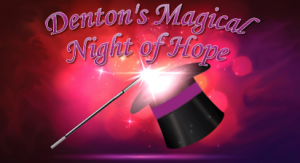 The community is invited to a "magical" local event fundraiser for St. Jude Children's Research Hospital.
The Kiwanis Club of Robson Ranch is sponsoring Denton's "Magical Night of Hope" to benefit St. Jude Children's Research Hospital, according to a news release.
The evening will include a cash bar, a silent auction with a roving magician, dinner, musical entertainment and special speakers. Tickets are $75 for the event, which will be at 5:30 p.m. on Sept. 23 in the Robson Ranch Clubhouse Ballroom, 9428 Ed Robson Circle, in Denton.
It costs $2.2 million a day to operate the hospital, which treats 7,800 children a year and no family pays for treatment, travel, housing or food, according to the news release. Since St. Jude was founded by Danny Thomas 55 years ago, the overall cancer survival rate for children has risen from 20 percent to 80 percent, in part thanks to the research done at St. Jude.
The event's dress code will be semiformal, and to find out more about the event, visit the EventSprout and Facebook pages. For sponsorship opportunities, contact the event chairperson, Mike Weaver, at [email protected] or 940-391-9614.