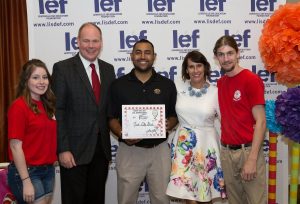 Ahead of the Lewisville Independent School District Education Foundation's annual fundraiser event in September, the organization is throwing a pre-event in early August.
The group is touting the "Start the Magic" event on Aug. 4 at Witherspoon Distillery in Lewisville as "a great way to get the 2017-18 school year started as well as kick off this year's Evening for Education."
"Start the Magic" will run from 4-9 p.m. and have live music, a food truck and free distillery tour vouchers with a donation of $20 or more. Click here for more information.
"Start the Magic" will be an appetizer for the Lewisville ISD Education Foundation's 2017 Evening for Education on Sept. 9 at 6:30 p.m. at the Hilton Garden Inn – Lewisville. This year's event, with the theme of "Make Anything Possible — The Magic of Learning," will have food and beverages from local restaurants and bakeries, a live auction, a silent auction and more.
The event benefits the students and teachers of Lewisville ISD. In the 2016-2017 school year LEF awarded $187,205 in scholarships to graduating seniors, and $101,163 in grants to LISD schools and classrooms, according to a news release. Click here for more information.