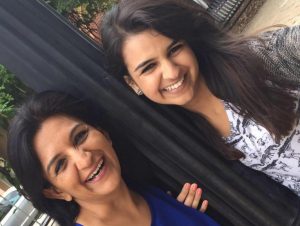 Tragic circumstances may be viewed as untimely endings to normal everyday living.  To Manu Shahi of Flower Mound, however, they may be seen as opportunities to grow. Her positive perception about tragic circumstances stems from her daughter, Janvi, having to fight cancer twice in her 18-years.
In 2002, then two-and-a-half-year-old Janvi was diagnosed with leukemia, which went into remission after treatments. During that first bout with the disease, Janvi was granted a wish by the Make-A-Wish Foundation.
Unfortunately, the disease returned in 2004. When she was told the cancer was back, the four-year-old asked her mother: "Will Make-A-Wish give me another grant?" To which Shahi replied: "How about we grant a wish?"
Although she could not answer Janvi's follow-up question: "What does that mean?" she later pegged that exchange as the beginning of her family's journey with Make-A-Wish.
The Make-A-Wish Foundation began in Phoenix in 1980 with the aim of granting wishes to children with life-threatening medical conditions. The organization now operates in countries throughout the world.
Shahi became a Wish Granter, while Janvi created art to help raise funds for the organization's good deeds.
At the first Wish Night at which Janvi offered an art piece, it sold for $40. Three years ago, Janvi sold one of her artworks for $14,000. This year's event took place on May 20 at the Hilton Anatole and one of Janvi's paintings raised a whopping $90,000.
Each wish costs an average of $9,500. Last year, the North Texas chapter granted a record 650 wishes throughout its 161-county territory.
Shahi has progressed from being a Wish Granter, to serving as a voluntary chairwoman for four-years for Wish Night, the annual Gala dinner and becoming a Wish Ambassador; who delivers speeches to corporations to elicit their involvement. Delivering those speeches is second-nature to Shahi, as she is a Zig Ziglar Certified Speaker.
"My role is bringing awareness about Make-A-Wish to the community," Shahi said. She added that the community has been great in its support of Make-A-Wish.
For instance, she said Flower Mound Mayor Tom Hayden has attended nearly all of the parties celebrating the granting of a wish to a child. Angie Cox of the LISD Board of Trustees is also a big supporter of Make-A-Wish.
"Many different ways are available to give to the organization," she said. "It ranges from the giving of gift cards, to schools having students develop projects that raise funds."
As a Wish Granter, Shahi receives requests from the Make-A-Wish office and then speaks with the family. Before, four categories of wishes existed, but recently a new one has been added. The categories now include: Who do I want to be? Who do I want to meet? Where do I want to go? What do I want to have? What do I want to give?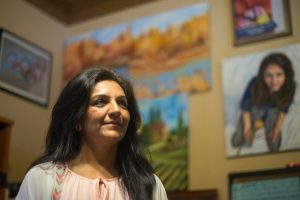 After hearing a child's wish, Shahi fills out paperwork to submit to the Make-A-Wish office. Shahi grants 99-percent of ill children she is referred to their wishes. After the wish is approved, she arranges a party for the child to celebrate the granting of the wish.
According to Shahi, the most frequent request is to visit Disneyland or Disneyworld.
"Two of our recent recipients, Landon Eaton and Porter Combs, wanted to receive a trip to Disney's Star Wars Jedi Training Academy; and, they did," said Shahi. "Wishes are a magic addition to the medicine. It has been proven that children feel better when they receive a wish."
Shahi's dedication to children has extended beyond her commitment to Make-A-Wish. She entered the field of education. Not only did she run a Kumon Learning Center in Highland Village for 10 years, where she helped teenagers achieve their goals, but she has now embarked upon a new venture.
Her status as a Certified Academic Life Coach is enabling Shahi to offer coaching to tweens, teens and college students: "To create a system that combines academic skills with life skills."
She encourages parents to spend time with their children and, while doing so, listen to them and exercise patience with them. One piece of advice she offers to parents is: "You need to connect the dots, before you correct the dots."
Writing is another way Shahi works to reach out to help others. As an author of chapters in the books Life Builders, Stories That Inspire and Dare to be a Difference Maker, she shares what she has learned with readers.
In Life Builders, Stories That Inspire, Shahi gave advice about the terrible moments people may encounter in their lives: "How we panic, handle the circumstances, the emotions and how we get up from being knocked down is what defines us at that moment."
As an educator, Shahi champions building self-confidence in students. She wrote that it is a teacher's responsibility: "To find the potential in the child and show it to them, so that they build up their confidence and start achieving things on their own."
Janvi graduated from Flower Mound High School last month and is pursuing an art career. She has accepted admission to the renowned Savannah College of Art and Design and wants to work for Disney.
"Her role is raising money for Make-A-Wish through her art," Shahi said of Janvi's activism, adding that her daughter donates 100-percent of her proceeds to the foundation.
To date, the total amount of money Janvi has raised for Make-A-Wish is over $200,000.
Those who want to help Make-A-Wish or obtain information about Shahi's other activities may contact her at 972-333-4663 or email her at [email protected].