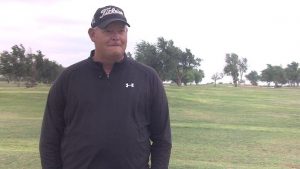 The Argyle athletics department has added another coach into the mix, as Mark Burgen takes the reins for the Eagles golf program.
Burgen, a former coach at Andrews High School, won six consecutive state championships with the Andrews girls team from 2011-2016, and said he is very much aware of the success the Argyle program has enjoyed in recent years, as well.
"I am very impressed with the golf talent at Argyle," Burgen said. "There is a lot of ability on the team, and I look forward to chance of further developing that talent. I am also looking forward to the challenge of building the girls program."
The Argyle boys team is coming off of three consecutive state championships and seven straight regional tournament berths.
Burgen said he sees potential for improvement in both Argyle teams.
"I was blessed to have come from a golf program with a rich tradition," Burgen said. "Argyle has a great system going with their boys golf team, and the golf program as a whole was very appealing to me. I am looking forward to having the chance of leading the Argyle boys and girls programs."
The success the Eagles programs have enjoyed in recent years is not the only thing Burgen liked about the Argyle coaching position, saying that the district itself has an excellent reputation.
"While interviewing with the Argyle ISD, I was very impressed with the overall commitment to excellence," Burgen said. "The athletic success is very attractive, and combined with the academic success, Argyle was going to be a very good choice for my family. I have an incoming freshman and sixth grade student, and I feel very good about my children receiving their education from Argyle schools."
Burgen said he has some definite objectives heading into the season, and said he wants to make sure his athletes do not lose focus on the steps it takes to become state championship contenders.
"It's quick and easy to say that the goal is to win a state championship," Burgen said. "That will be our top goal, but there are many things that have to be taken care of to give ourselves a chance to win the state tournament. Dedication, commitment, sacrifice, work ethic, mental toughness, etc, are all a necessary process to prepare for high level success.
"I want our teams to be the hardest working and the best prepared in the state. If we buy in to these essential team concepts, we will be a very competitive program."