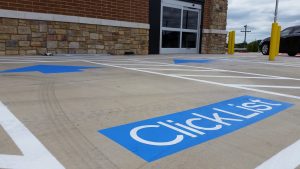 The Kroger grocery store on Cross Timbers Road in Flower Mound will replace its Kid's Club with an online ordering service, a spokeswoman confirmed Tuesday.
Kroger will fill the space currently occupied by the Kid's Club — a place in the store with supervised games and activities where shoppers can drop off their children — with ClickList, an online ordering service that lets people choose their groceries online. Customers then drive to the store during a designated time slot and employees bring the groceries out to their vehicle and load it up.
"Our customers have overwhelmingly said they want ClickList," said April Martin Nickels a spokeswoman for Kroger's Texas and Louisiana division. "It's all about convenience."
Nickels did not know when the change will be made.
Nickels said the grocery store chain "assessed every single area" in the store before ultimately deciding which part would be replaced by ClickList.
This Kroger store, 2709 Cross Timbers Road, is the only one of 110 stores in Texas and Louisiana that has a Kid's Club, Nickels said. Of those 110, about 30 have ClickList.
A Change.org petition has circulated on social media in Flower Mound in an attempt to save the Kid's Club. However, Nickels said "the decision has been made."
Nickels said she understands why customers are sad to see the Kid's Club go, but now that the store is getting ClickList, many people won't need it anyway.
"Instead of dropping your children off, using ClickList, they don't have to get out of the car," Nickels said. "What we hope is that the citizens of Flower Mound will enjoy ClickList as much as everyone who has used it."