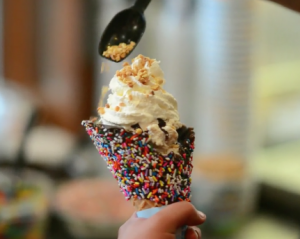 The Ben & Jerry's location in the Shops of Highland Village is partnering with some local city leaders to raise money for a local charity on Thursday.
From 3-6 p.m., a portion of all proceeds at the ice cream shop will go to benefit Your Home Team Cares, a local nonprofit that helps local residents in need and community projects.
There's a twist, though, that adds a level of competition between Lewisville, Highland Village and Flower Mound.
Each hour will feature local city leaders scooping ice cream, and the most scoops sold in their hour wins city bragging rights, says a flyer advertising the benefit.
From 3-4 p.m., Lewisville City Council member Neil Ferguson will be the "city celebrity scooper." From 4-5 p.m., Highland Village Mayor Charlotte Wilcox will compete, and from 5-6 p.m., it'll be Flower Mound Town Council member Don McDaniel.