After two years of construction and repairs, Flower Mound re-opened Twin Coves Park on Friday.
Chuck Jennings, Flower Mound's director of parks and recreation, said the town had plans for the park — 243 acres on the north shore of Lake Grapevine — before the flood of 2015 that damaged the Lewisville Lake Dam and caused the Lake Grapevine spillway to overflow and close the roadway between Grapevine and Flower Mound.
"(The plans) got delayed when the flooding happened," Jennings said last month. "It worked out that we could shut down the park after the flooding. It stayed closed during our renovations."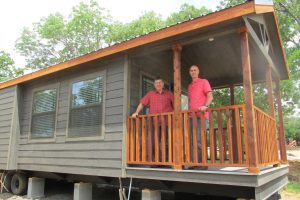 The town hosted a ribbon-cutting Friday afternoon to celebrate the re-opening.
Twin Coves Park now features 19 rentable, furnished cabins housing four-to-six people, plus 22 recreational vehicle sites.
Cabins will rent for $130-175-per night, depending on time of the year. The RV sites will cost $35-$55, with full hookups for water and sewer, upgraded 60-foot level concrete pads and 50 amp electric service. Passes for the separate day-area will be available for $10; with annual passes going for $45 for residents and $75 for non-residents.
Other amenities include a four-hole disc golf course, two pavilions, picnic areas, a fire pit, playground, kayak launch area, grass volleyball courts and scenic overlooks. That's in addition to the long boat ramp extended several years ago.
Jennings said the town spent more than $4 million, plus a $400,000 Texas Parks and Wildlife Recreation grant helping to pay for some of the amenities.