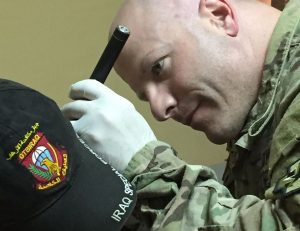 It's 7,210 miles from Flower Mound to Baghdad, Iraq and a 9 hour time difference.
Just ask Dr. J. Drew Sanderson of Flower Mound Plastic Surgery & Aesthetic Spa. The plastic surgeon was deployed to a Combat Surgical Hospital near the Baghdad airport from Dec. 30, 2016 until Apr. 5, 2017.
Immediately after completing medical school, Sanderson volunteered to serve in the United States Army Reserve and currently holds the rank of Major.
"It's [the Army] something I've always wanted to be a part of," said Sanderson. "As a Vietnam era young adult, my father was suspicious of the military and said I should go to medical school first."
He grew up in New Caney, 45 minutes north of Houston, and had an interest in serving his country early. He completed a Bachelor of Science degree in respiratory therapy, with a minor in chemistry, from Texas State University with honors.
"As a respiratory therapist, I found I had very little autonomy," said Sanderson.
To expand his need for autonomy, he applied to and was accepted to medical school at the University of Texas Health Science Center in San Antonio. After graduating medical school in the top 20-percent of his class, he completed his surgical internship at the University of Tennessee in Memphis and completed his otolaryngology-head and neck surgery residency at the University of Texas Health Science Center in San Antonio.
After completing his training in otolaryngology, he continued his training with a second residency in plastic and reconstructive surgery at the University of Nebraska Medical Center in Omaha. He chose the University of Nebraska for its strong aesthetic surgery program.
"I got into plastic surgery, because it's never the same," said Sanderson. "It requires you to think, because nothing's ever the same; whether I am repairing a traumatic laceration or doing a breast augmentation, everyone's different."
His expertise in wound surgery and facial trauma training translated well for his deployment in Iraq.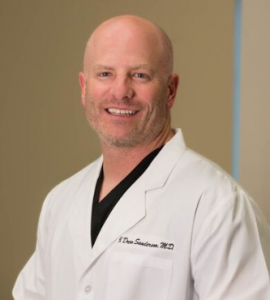 Sanderson was attached to the 1998th Head and Neck Medical Team while in Iraq.  "We were responsible for any trauma involving the head and neck, but thankfully I did very little surgery on our troops." said Sanderson.  "I was able to obtain a sense of purpose by operating on some of the Iraqi soldiers wounded fighting on our side."
Although FaceTime and regular texting was possible, the Tour 18 resident said his wife showed a remarkable amount of strength while he was deployed.
"My wife, Kasie, stepped up– she even killed a full grown copperhead snake– and Peyton, who will be 16 in August, and Blake, who turns 12 in November, both are good kids," Sanderson said. "So, even though they missed me– and I missed them– it was okay."
He added that he gained: "A whole new respect for the special operations forces fighting over there.  They are men who continue to do tour after tour because it is what they love.  I am deeply grateful for them and wholeheartedly feel they help keep the fight there and away from our shores."
Flower Mound Plastic Surgery & Aesthetic Spa offers cosmetic surgery and innovative aesthetic procedures, using the best and latest technology. Learn more at flowermoundplasticsurgery.com or call 972-691-7900.