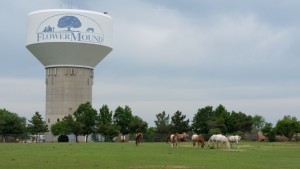 People love living in Flower Mound, according to a new town survey of residents.
The results of the survey were published Friday in a town news release and reflect that residents ranked Flower Mound favorably in several areas, including quality of life, town services, safety and as a place to live and raise a family.
With help from the National Research Center, the 2017 Citizen Survey was mailed to 1,500 randomly chosen Flower Mound homes in March, and the town received 478 completed surveys, as well as 874 supplemental online surveys.
Ninety-five percent of respondents rated quality of life in Flower Mound as excellent or good, and 96 percent rated the town as an excellent or good place to live. Overall safety received a 98 percent positive rating.
Both the approval ratings for the police department and crime prevention increased by 7 percent improving from 87 percent in 2014, to 94 percent in 2017.
Residents ranked safety, economic health, traffic flow and the natural environment as the most important focus areas for the town for the next two years.
"We appreciate the feedback that residents provide and this survey is a great way for the Town to quantify and analyze that information" said Flower Mound Town Councilman Bryan Webb. "The council will be able to take this information to our strategic planning session and access ways to address areas where improvement is needed."
The lowest rated community characteristics include cultural/arts/music activities at 40 percent positive, employment opportunities at 40 percent, traffic flow at 44 percent and a vibrant downtown/commercial area at 45 percent positive.
"The Town has continued to strengthen its overall economic health and residents are appreciating the increased shopping and dining opportunities," said Flower Mound Town Manager Jimmy Stathatos. "It's so important to keep tax dollars local and invest in the community so we are able to provide new features and enhanced services all residents can enjoy."
For more information and complete survey results, visit the town website.