I am grateful Flower Mound has so many dedicated elected officials seeking to improve residents' lives. One of these is our 26th District Congressman, Michael Burgess.
Since 2003, Michael Burgess has served the constituents of the 26th District, encompassing Flower Mound, in the U.S. House of Representatives. With a passion for serving his country, he was motivated to run for Congress after the events of September 11, 2001. Prior to this decision, many of our residents were familiar with him as their doctor. When he ran for Congress, he had been practicing medicine as an OB-GYN in North Texas for almost three decades and wanted to serve his patients in a new way.
Now, Rep. Burgess is the most senior medical doctor in the House of Representatives and has made it his duty to help fix the health care system. While serving as Chairman of the House Energy and Commerce Subcommittee on Health, he uses his first-hand understanding of what is wrong and right with health care system to make informed legislation decisions.
Since he was elected, one of Rep. Burgess' top priorities is to repeal Medicare's Standard Growth Rate formula. At the beginning of the 114th Congress, more than 90 percent of both chambers of Congress supported the formula's repeal and it was signed into law. As one of the largest entitlement reforms in the past few decades, Rep. Burgess feels this landmark policy will ensure greater access and quality healthcare for seniors, more stable reimbursements for providers, and a more fiscally solvent Medicare system as a whole.
One of the ways our elected officials can improve the quality of life is to improve mobility legislation that affects constituents. Transportation issues are also a priority to Rep. Burgess. In 2005, he successfully amended the Highway Bill to include development credits, design-build, and environmental streamlining. He has also continually worked to find ways to build, maintain, and improve the safety of our roads, bridges, air service, and transit in the North Texas region.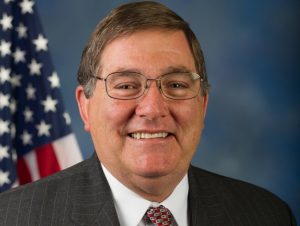 Did you know one of the most important things Congressman Burgess does as a U.S. Representative is help individuals gain access to and about the federal government? Although he cannot override the decisions made by a federal agency, he can often intervene on a constituent's behalf to answer questions, find solutions, or just cut through the red tape. In the past 10 years, he has worked 512 constituent cases for Town of Flower Mound residents.
He also has the opportunity to nominate highly qualified students from the 26th Congressional District to be considered for appointment to our nation's service academies: the U.S. Military Academy at West Point, NY; the U.S. Naval Academy at Annapolis, MD; the U.S. Merchant Marine Academy at Kings Point, NY; and the U.S. Air Force Academy at Colorado Springs, CO.
Dr. Burgess' nomination of a constituent functions as a recommendation to the academy. Dr. Burgess is assisted in the process of selecting individuals to receive a nomination by the Service Academy Advisory Board, chaired by Lt. Gen. Charles R. Hamm, USAF (Ret.). However, Congressional nomination does not guarantee acceptance to the academies; ultimate selection of appointees rests solely with academy officials and is based on their competitive evaluation of all nominees. Since 2003, more than 50 residents of Flower Mound have accepted appointment to the service academies.
On a broader scale, Congressman Burgess has worked with Town officials on postal issues related to new development, property rights, and general safety under the Bureau of Land Management; air space as it relates to the Federal Aviation Administration; and clarification surrounding funding with HUD officials.
As he continues to serve the 26th District, Rep. Burgess looks forward to working on other important issues facing our community such as tax reform, the economy, and American jobs. He says he feels called to this position and it is an honor to serve the Flower Mound community. Please feel free to reach out to him at https://burgess.house.gov/contact/.