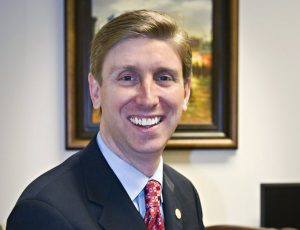 During this Fourth of July holiday, I wish to express gratitude for the many blessings given to us by our Founding Fathers and to the brave soldiers who have sacrificed for our nation's ability to uphold the foundational values of life, liberty and the pursuit of happiness.  Our nation, state, and communities would not be blessed with the freedom that we so proudly cherish if it were not for each of these courageous individuals who put their lives on the line to protect us since America declared its independence 241 years ago.
Freedom is something we should never take for granted.  My political hero, President Ronald Reagan truly said it best – "Freedom is never more than one generation away from extinction. We didn't pass it to our children in the bloodstream. It must be fought for, protected, and handed on for them to do the same, or one day we will spend our sunset years telling our children and our children's children what it was once like in the United States where men were free."   That is certainly a wonderful perspective to pause and reflect upon this July 4th.
As we gather with our family and friends to enjoy the many community events and magnificent displays of fireworks, let us not lose sight of the true message of Independence Day and the gift of our freedom.  It is in this spirit that the story of a brave veteran who recently shared how debilitating his PTSD and brain injuries had become really struck me.  Through a North Texas non-profit organization called Patriot PAWS, he was able to have his personal freedom restored with the partnership of a service dog that was provided to him free of charge.
Lori Stevens, founder and CEO of Patriot PAWS, is one of those people who sees hope and the value of personal independence when called to help an injured combat veteran. After a visit to a Dallas VA Hospital, Lori fully grasped the extent of how much the veteran community needs service dogs to assist them with the most basic activities of daily living.
In 2006, Patriot PAWS opened its doors and began training dogs to be full-time companions to these patriots.  These dogs help with household chores, picking up dropped items, providing stability and balance, retrieving necessary items including specific medications, and detecting PTSD symptoms, along with many other incredible tasks.  The program has developed further to include a partnership with the Texas Department of Criminal Justice to teach prison inmates to train these service dogs and also with the University of North Texas to establish a puppy raisers program.  In essence, service dogs are giving freedom back to our injured service men and women who, without them, would not be able to access their environment and independently thrive.   What a wonderful way to give back and honor the front line defenders of our free society.
However you choose to honor Independence Day, I hope you will enjoy the many celebratory festivities that are taking place around our communities.   Beth and I look forward to participating in several patriotic gatherings with our family.  Here are just a few events that we have always enjoyed:
Flower Mound:
Children's Parade – LISD School Administration Building, 1800 Timber Creek Road, Flower Mound, 75028. The line-up for the parade starts at 9:30 a.m. and the actual parade starts at 10 a.m.
Independence Fest – Bakersfield Park, 1201 Duncan Lane in Flower Mound starting at 5 p.m. with entertainment by A.A. Bottom, Le Freak and Brother Osbourne.  The magnificent fireworks begin at 9:50 p.m. There are vendor tents, food trucks, and many family-friendly activities.
Roanoke:
3rd of July celebration with a musical performance by the Spazmatics starting at 6 p.m. and concluding at 10:30 p.m. at Roanoke Community Park – 201 Park Drive.
Trophy Club
Patriot 5k and Fun Run – Byron Nelson Park starting at 7:15 am.  This event is followed by the Parade of Patriots at 9:30 am at Byron Nelson High School – 2775 Bobcat Boulevard.  The Town offers a beautiful display of fireworks with a gathering at Independence Park East at 6 p.m. until 10 p.m. Entry is free for all residents and guests of Trophy Club hotels.
Double Oak:
The Double Oak Volunteer Fire Department (DOVFD) is happy to host the 37th Annual July 4th Parade and Picnic. The event will kick-off at 9 a.m. with the parade starting on Simmons Road and ending at John B. Wright Park. Participation in the parade is free and open to the public. The picnic will start upon completion of the parade.
As always, it is an honor to serve you in the Texas House of Representatives, and I welcome your feedback on this and any other state issues.  Please feel free to contact me at my Capitol office at 512.463.0688, email at [email protected], or follow me on Facebook and Twitter, @tparker63.