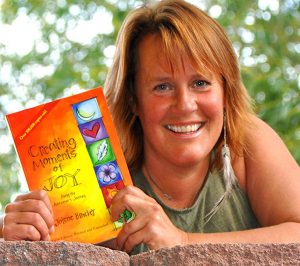 The Oaks at Flower Mound Assisted Living and Memory Care will host professional speaker and author Jolene Brackey on Tuesday, June 27, as she presents a heartwarming and inspirational message of hope for families and friends whose lives have been touched by Alzheimer's disease.
Originally an interior designer, Brackey felt led to interact with and help people on a deeper level. The first role she found was as an activity director in an Alzheimer's care center. It was in this setting that she found her gift – the ability to create moments of joy for those in her care.
Now it its fifth edition, Brackey's book Creating Moments of Joy along the Alzheimer's Journey is helping readers cope with the day-to-day truth of loving and caring for individuals with Alzheimer's. One reader commented on Brackey's website, "I am certain many moments of anguish, fear, frustration and pain will be replaced by Joy because of you."
"We are honored and excited that Jolene has agreed to share her energy, experience and humor with our community," says Gary Morgan, Executive Director, The Oaks. "You won't want to miss it!"
Brackey will share her insight, strength, laughter and hope this June 27th from 6 to 7 p.m. at The Oaks. If you or someone you know would like to attend this special presentation, reserve your spot by calling (469) 630-0800.