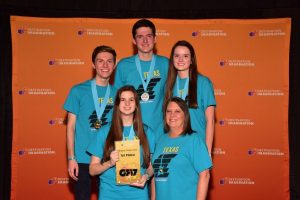 by Mark Smith, Contributing Writer
In a come-from-behind second place finish at the State Destination Imagination competition, four Flower Mound High School students came in first place at the Global Finals in Knoxville, Tenn. last month.
"We were really shocked," Liam Mullholland said.
His twin sister, Hannah added: "We knew we had done really well, but so had everyone else."
Rounding out the winning team of four are Meredith Carlile and Casey Kassal, who scored their victory in the Scientific Challenge at the Global Finals; beating more than 75 teams from 17 countries. with superior creativity and problem-solving skills.
Destination Imagination is about creative and problem-solving skills with teamwork.
In the final challenge, all competing teams were tasked with creating and presenting a story about a secret mission. They had to use cryptography– the practice of writing or solving codes– and steganography– the practice of concealing a message.
Among other aspects of the challenge, teams had to create a gadget that appears to be an everyday item.
The Flower Mound team, named DI Area 51, performed a show about Barbies playing "Wheel of Fortune," with several levels of encryption and one character revealing his disguise.
For the competition, Liam created a built-in microphone, that had two light-up buttons for whether an answer was correct or wrong. Hannah made her costume out of paper, because she was a reporter Barbie.
Those contributions, combined with the skit, the encrypted messages and the disguised character combined to help the Flower Mound team win.
The Mullhollands said they started participating in Destination Imagination in fifth grade and it has helped them learn how to "think outside the box."
"If it doesn't say you can't, you can," Liam said.
Several other Lewisville ISD schools competed in the Global Finals.
As listed on the Destination Imagination's website: McKamy Middle School got 11th place in Scientific Challenge; Hebron High School placed 27th in Scientific Challenge; Arbor Creek Middle School tied for 38th in Fine Arts Challenge; Marcus High School tied for 12th in Improvisational Challenge; and Homestead Elementary School came in 5th in the Engineering Challenge.