There's a new educational option now open in southern Denton County with a rich history of success.
The non-sectarian, non-profit Selwyn School with students in grades K-12 moved over spring break in March after nearly 60-years in the Denton area. It downsized from an 80-acre campus with multiple buildings, to one building on 10 acres making it much easier for the 50 or so students, plus 30 faculty and staff to congregate.
Selwyn School is now located just north of Lantana and west of Copper Canyon on Copper Canyon Road. Though it has an Argyle address, it actually sits in unincorporated Denton County.
Selwyn School was in a part of Denton's Razyor Ranch development, which is becoming more light-industrial. Combined with a 2012 fire at the main building– and expensive costs to retrofit the campus to meet today's standards– the school's Board of Trustees decided to look elsewhere.
They bought the front 10-acres of a 90-acre property and renovated what previously was a technology company. The completely-wired building fit perfectly into Selwyn School's teaching philosophy.
"We're a one-on-one technology school," said Deborah Hof, head of the school since the start of this school year, after holding similar roles in California and Michigan. "Every student has an iPad. Because we're heavy into technology in our work, having a building that's this well-wired is fantastic."
Moving also gives the school a better opportunity to grow.
"The overriding conversation was [about] 80-acres, in a corridor that is becoming light-industrial, [that] doesn't really serve a day-school," Hof said. "When you are a day-school, you need to be where the families are moving; where there are children. So, demographically getting off that light-industrial corridor was just the better move for us.
"What else is nice about it, at least for me, is the kids are all close to each other, whereas before it was spread out. The younger kids didn't see the big kids, because they were in another section. It's so much nicer for a day-school to be together. It allows the big kids to work with the little kids. It allows me to see all of the kids every day."
One student who has attended Selwyn since age four, is Ponder resident Seguin Alexander, now a 17-year-old junior.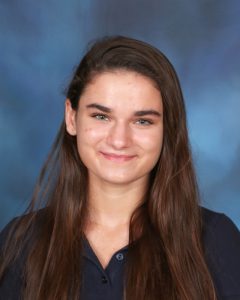 "Needless to say, we've been happy with the education and opportunities it has provided," she said. "My parents didn't feel that the public school in our area provided a well-rounded education that would really prepare me for the future. Selwyn is a really unique school that has a great 'small community' kind of atmosphere.
Hof said two things differentiate Selwyn from other private schools.
"The first thing is we are a day-school, which means we are run by a non-profit Board of Trustees," she said. "And, then the other piece, is we are small purposely. We don't expect to have more than 12 or 14 in a class, ever. In that way you can differentiate; you can teach students where they are. Those children become like family."
Hof said being small allows Selwyn to set up hands-on learning experiences for each student, something that can't often be done at larger private and public institutions.
"There are a lot of great teachers at those schools, but the fact is, you can't do as much for 25 students as you can for 12," Hof said.
In the fall of 1957, a group of parents started the school under a different name. The original name was changed from Denton Civic Boys Choir School to The Denton Preparatory School in 1959 when the doors were opened to female students. It was located in a two-story house near Texas Women's University.
As the school grew in the early 1960s, it moved to a 150-acre farm, on what's now called Unicorn Lake, on the periphery of Denton, where it converted cattle barns and a small farm house into classrooms. A few years later, Denton native J. Newton Rayzor donated 100-acres off U.S. Highway 380 in west Denton to the school; which built permanent buildings and named it after his daughter, Selwyn.
The founding headmaster and first lady, John and Robin Doncaster, Selwyn parents– and the Board of Trustees worked together not only to build the campus, but to make Selwyn the educational institution that continues to thrive.
The school has continued with business as usual, until the fire struck the school's main building, directly affecting the administration and lower school. While portables were brought in at first and funds were raised to rebuild on the campus, the Board of Trustees soon realized the cost to meet today's safety codes would be prohibitive. After much discussion, they decided to relocate.
To be more sustainable, they needed somewhere more modern and where more people had access to it. So, they picked a location closer to growing areas like Argyle, Lantana, Flower Mound, Copper Canyon, Double Oak, Bartonville and Highland Village.
Hof hopes that being in the middle of that growth helps double or nearly triple enrollment, since a majority of current students live in Denton and to the north in places like Decatur, Sanger, Aubrey and Pilot Point. She'd also like to resurrect an early childhood program that existed on the old campus.
"The teachers really do care about their students," said Alexander. "As a result, every class is taught differently and caters to the students' individual needs. The school is on a really exciting new path leading to a promising future, and I'm happy that I've been able to see such a positive transition!"
Claire Fothergill, a native of England who moved with her family to Texas four-years-ago from Amsterdam, found out about Selwyn from friends who are alumni.
"I was impressed that they were able to move an entire school and not miss one day of education," she said. Her seven-year-old daughter, Cordelia, is in her first year at the school, after moving from Flower Mound.
"I know parents who will drive an-hour-and-a-half to take their kids to Selwyn, because it's such a good school," she said. "It's the sense of community. We all know everybody, even in the short time we've been at the school."
One reason they chose Selwyn was it features all grades.
"They actually care about our children," she said. "I like the fact when Cordelia goes to school in the morning everybody gives her a hug. I know it sounds crazy but they are genuinely pleased to see her and give her a hug every morning including Ms. Hof.
"We're very lucky that the class sizes are very small. They actually teach to the child. My child is quite bright and so she's got a higher reading and math level than other kids her age. They are able to teach to her level, with only 11 [students] in her class."
Learn more about Selwyn School at www.selwynschool.org.