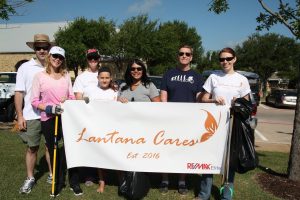 A Lantana-based organization that formed last year has gained official nonprofit status and is looking to tackle larger projects.
Lantana Cares was founded in early 2016 by residents Bill Featherstone and Christy Wong, and held its first trash clean-up on March 5 at the community's Gazebo. Since then, the resident-empowered group has organized other clean-ups and assisted the Lantana Community Association with events.
Along with Featherstone and Wong, board members are: Jonathan Balmos, Jim Bridges, Randy Fogle, Sheldon Gilbert, Suzanne Gilbert, Kevin Mercer, and Mark Norton.
In order to do more in the community, the nonprofit is looking to the Lantana Education/Charitable Foundation for grant money. One-half of one percent of the sale price of all real estate within Lantana goes to the foundation.
"Our mission is to do things right here in Lantana to beautify the community, and offer education and recreation opportunities to the residents," said Norton. "Our goals and our status align perfectly with the charitable foundation so we do hope to receive grants to make things happen right here in Lantana."
Norton said Lantana Cares was approved for a grant of $7,500 from the foundation to donate to the Lantana Earth Day project for the purchase of trees to beautify the community.
Residents who wish to volunteer or sponsor an event can contact Mark Norton at 940-728-1660 or Christy Wong at 972-697-3007.