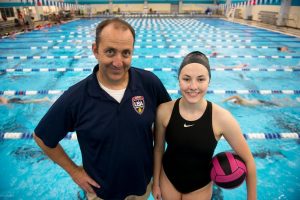 The sport of water polo has helped Katherine and her father, Chris, Cullen's relationship become even closer.
Katherine, a junior at Guyer High School, helped her team reach the State Water Polo Tournament in early May when she was selected as the tournament MVP.
Chris, the water polo coach at Guyer High School, has gotten to watch his daughter excel in a sport that he holds dear to his heart; and, is grateful for the opportunity to coach her at the high school level.
"It has brought us closer, as we both have a passion for the game," Chris Cullen said. "It is a blessing as a father to get to spend so much time with her and be her coach. I never pushed her into water polo, but I introduced her to the game at a young age and her competitive nature led her to excel."
Chris Cullen, who competed in the sport of swimming himself at Lewisville High School and served as manager of the SMU swim team, said it is a fine line he walks between being a coach and father, but added that he and Katherine have been able to navigate it pretty well.
"We have a great relationship," Chris said. "I love talking water polo with her. It is great to have someone to talk about our games and practices. She is a great daughter and a great player to have on the team. She is the leader of the team at practice and games."
Chris Cullen, who also serves as the Denton ISD Aquatics Director in addition to Guyer's swimming coach, started coaching water polo in 1999 when: "we had kids who had moved here from Michigan where they had played water polo," at their previous schools.
"I love swimming and coaching, so I embraced the challenge," Chris Cullen said. "My goal as a coach is to improve in my knowledge and ability every year."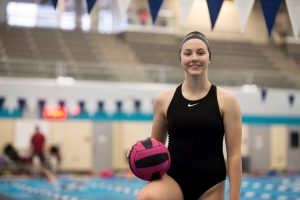 Katherine Cullen, 17, said her passion for swimming started more than a decade ago and she felt a natural attraction to water polo shortly thereafter.
"My parents say they took me to a neighborhood pool around the age of three, but I don't remember a time when I didn't know how to swim," Katherine Cullen said. "I started playing water polo at eight-years of age, when my dad became a coach for a new water polo club in the DFW area. I also swim for Guyer."
Katherine Cullen said she enjoys the time spent with her father on the water polo team at Guyer and said it has allowed them to pursue a mutual interest.
"My dad has been my coach for as long as I can remember, so I've never known it any other way," Katherine Cullen said. "We have a close relationship and I think water polo plays a role in that. We have lots of conversations about what the team needs to improve on and how we think we can implement those changes."
Katherine Cullen recently wrapped up her junior year at Guyer High School and said she definitely plans to play as a senior and hopefully beyond.
"I'm planning to play water polo in college," Katherine Cullen said. "As a water polo player in
Texas, I've had to reach out to college coaches, because they are focused on the athletes in California, where most water polo colleges are located."
Chris Cullen played water polo as an adult for the Dallas Water Polo club team and has been with the Denton School district for 26 years.
He is the only water polo coach Guyer has had in the school's history.
While the sport has not attained the status of other UIL sports at this point, he said water polo has really grown exponentially since he first started.
"The growth has been tremendous," Chris Cullen said. "In our area in 1999 there were only three or four schools playing, and now there are 25-30 just in the North Texas area. We have year-round club water polo in our area. Kids now have the opportunity to learn to play at a young age. Texas is primed for growth with the great number of athletes and a strong swimming background. It is very exciting to be a part of the growth of a great sport."