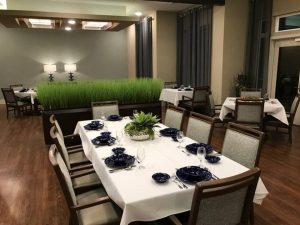 While Avanti Senior Living at Flower Mound is not quite ready for move-ins, the Avanti team is welcoming visitors to tour the community.
"Visitors can expect the community to radically change their perception of senior living," said Vicki Lee King, executive director of Avanti Senior Living at Flower Mound. "This is senior living like you have never seen before. Our vision is to provide seniors with connected, active and technologically enhanced living, and I believe we have exceeded our original goals.
"We are excited to present our community and showcase a contemporary setting that fuses classic and modern design elements to form unique, fashion-forward interiors. This is a lifestyle community in which our residents will feel ageless as they follow their passions, explore new interests, continue learning and focus on whole-body well-being from the inside out."
Signature amenities will be showcased throughout tours and include a state-of-the-art wellness center with ballet barre and fitness programs, a theater area, a full-service salon and spa offering relaxation therapy, aromatherapy, therapeutic massages, hair styling and manicures/pedicures, as well as a fully functional art studio with an abundance of natural light and a stone wall for displaying the residents' artwork.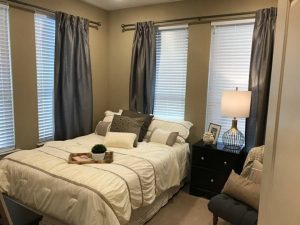 The community and resident suites will boast plush carpets, plentiful windows, walk-in closets, oversized showers, stone countertops, upgraded finishes, and storage space as well as other signature features.
The design optimizes the use of natural light by incorporating an abundance of windows which serve as picturesque glimpses into other areas, providing varying perspectives both inside and outside.
When choosing artwork for the community, Avanti decided to move away from the typical paintings of rocking chairs, empty boats and landscapes to more abstract work such as photo realism, black and white photography, Plexiglas, metal prints, blown glass and wall sculptures which provide depth and texture.
The community as a whole is evocative of timeless hospitality and revolutionary design, featuring savvy use of technology and boutique-style ambiance that is unmatched by other providers, according to a press release.
"We want to welcome everyone out to see a sneak peek of our model suites and the community so they may get a true sense of the Avanti experience," said Lee King. "Once the community is open, an engagement coordinator will be available to customize each resident's personal preferences in regard to meals, activities, wellness, entertainment and more. A fitness coordinator will also be available to provide tech tutorials and advise residents on workouts and nutrition. There are good things to come for those who choose to make Avanti their home."
The community and models at 4041 Long Prairie Road in Flower Mound are open for tours daily Monday through Friday from 9 a.m. to 5 p.m., Saturday from 10 a.m. to 2 p.m. and Sunday from 1 p.m. to 5 p.m. Call 469-294-1080 to make an appointment.