Looking for something different and meaningful to do this Father's Day Weekend? Then check out the Southwest Military Wheelchair Basketball Conference (SMWBC) that will showcase the best of military veteran basketball athletes.
The event kicks off the afternoon of June 16 with junior and preparatory basketball clinics led by SMWBC athletes at Pioneer Hall on the Texas Women's University campus in Denton. That evening, an exhibition game between a team of first-responders from Flower Mound and North Texas military veterans will be held at the Cross Timbers YMCA, 2021 Cross Timbers Road, in Flower Mound. That event runs from 6 to 9 p.m. and is free to the public.
This is the fourth year of the tournament and the second including the Cross Timbers Family YMCA.
"It's a way to showcase wheelchair basketball with the veterans and the law enforcement people in your community," said founder, retired Marine Master Sgt. Kent Robinson. "We're all one big family."
After the game, everyone in attendance is invited to a free barbecue dinner to be prepared by The Summit Club of Flower Mound.
"That's when the public will be able to sit down with the veterans and ask them any questions they want to ask," Robinson said. "Every person in life has a story. Every veteran who has been hurt in combat has two stories. It's a way for everybody to sit down and learn about one another."
Guest appearances will include Lisa "Red" Letbetter performing the National Anthem; DC LC- Lamont Carlis providing musical entertainment; and, the Dallas Mavericks' ManiAAcs will perform at halftime. Also scheduled to appear are Miss Outstanding Teen-Texas and Miss Outstanding Teen-Southlake.
Then, on June 17 and 18, the main event is held when seven co-ed wounded warrior teams meet in a round-robin format tournament at TWU's Pioneer Hall. The veterans will represent all military branches and reside in Texas, Arizona, Arkansas, Louisiana, Oklahoma and New Mexico.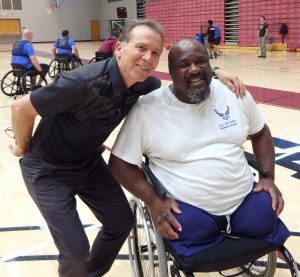 Robinson launched SMWBC four years ago, after seeing wheelchair basketball for the first time while visiting his parents near Fort Hood in Central Texas. Later that year, he was asked to help select the teams at tryouts for the Warrior Games at Fort Hood.
That's when he met Dr. Ron Davis, a TWU professor of Kinesiology and Adaptive Physical Activity and Physical Education, whose background includes working with the Paralympics. He is also chair of the school's Injured Veterans Entering Sports Training program (INVEST) that promotes adaptive sports and is hosting this year's event.
Davis had brought some of his students to an event and after kicking around a number of ideas, they decided to bring the SMWBC to North Texas.
"It's a way for veterans with all types of disabilities and anyone without a disability who can come play wheelchair basketball on an equal scale," Robinson said. "For a lot folks with nothing wrong with them, they actually are close to people with a physical disability, because people with a disability have learned to turn their disability into a strength when they are on the basketball court.
"TWU is like the 'mother' tournament that starts our season off every year. It's probably the best orchestrated tournament, because of all the organizations that come together to put it on. TWU always is the start of the season for the conference. And, recently with what TWU has done, we have other areas coming up to us and asking us to hold events there."
Flower Mound-based Heritage Health Solutions is the primary sponsor. Its owner, James L. Rosengren, whose son Josh is part of the INVEST program, attended the first event and has been involved with every one since.
Other sponsors include DJ LC – Lamont Carlis, Cross Timbers Family YMCA, McAllister's Deli, Springhill Suites, Market Street Flower Mound, Blue Cardigan and Image Center.
More information, including additional sponsorship opportunities, is available from Patti McCoy at [email protected] or call 469-744-5855.