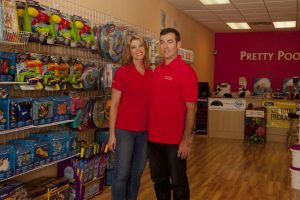 If the bright red trucks aren't enough, there's plenty of other ways Pretty Pools differs from its competitors.
It starts with co-owner Marc Nobles, a two-decade industry veteran; mostly as general manager of a large Austin residential pool service. Wife and partner Melissa worked for 15-years in customer service for the Four Seasons Hotel and III Forks Steakhouse in the capital city.
Three years ago, they decided to move to North Texas with youngest son Max to start their own business; and, thus, Pretty Pools was born. It specializes in pool cleaning, filter maintenance, pool inspections, repairs and equipment upgrades.
"We hear the same things from the people who call looking for a new pool service company," said Marc. "It's our attention to detail, our responsiveness, our availability and our consistency that is bringing in new clientele."
Pretty Pools started with just one truck and a warehouse in Carrollton. It has since grown to five trucks and a retail store, opened last year in Flower Mound on FM 3040, which features chemicals, supplies, toys, floats, goggles and other pool accessories.
"There's a reason for that," Melissa said. "'The guy doesn't show up; they can't get a hold of anybody; they're very unprofessional, they look like they just rolled out of bed after a hard night.' Customer service in this industry is lacking and that's why people like us."
Serving as a warranty station for Zodiac and Pentair parts and service also separates Pretty Pools from the rest. Plus the Nobles' are meticulous in their hiring practices and Marc constantly trains those they do hire on the latest trends. The result is a growing number of customers in southern Denton County and beyond. Referrals from satisfied customers have been a big help.
"We like to say that we offer extraordinary service at a reasonable price," Melissa said. "We're not going to be the cheapest pool service, or the most expensive, but we're going to give you the best service."
Visit Pretty Pools at prettypoolsdfw.com or call 469-416-2190.