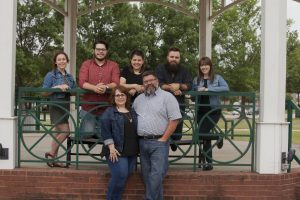 Little did Brett Darby know paying his State Farm statement four years ago would lead to a second career in Flower Mound.
Darby was serving his ninth year as principal of a small private school in Abbeville, Louisiana, where he and his wife Tobie grew up, when his agent told him of the company's recruitment efforts. After 20 years in education, he was ready for a career change and accepted her offer to join her.
He spent his first two years at the agency's front desk where he received a cram course in the insurance industry.
"I went from being a principal to kind of being a secretary. It was crazy," he said. "But that was the best way to learn things. She threw me into the fire."
Darby soon was promoted to agent aspirant where he reviewed client policies and discussed life insurance. In April 2016, he attended a meeting with a group of North Texas sales leaders bragging about opportunities here. One was from Plano and the next day invited him to tour the area.
"When we drove through Flower Mound we kind of felt this was a place we could live not knowing there was even going to be an opportunity," he said. "We love the area. It's a big city to us because of the area where we're from. But it really feels like a small town. They do a great job. Everyone is so community-oriented."
The opportunity arose upon the death of Steve Allen, one of the most highly-regarded agents in the business.
"I never got the chance to meet him but I knew his name because he did so well for so long," he said.
State Farm officials assigned Allen's clients between Darby and another agent with Darby opening his agency in April with Allen's old phone number and some of his memorabilia.
"We're just so blessed to be a small part of what he had," Darby said. "From everything I've heard he was such a pillar of the community here and we really are excited to be a part of that and serve the people that he served.
"Coming from the education side and being a principal helped me with my ability to meet people and to problem-solve and to help them through things.
"Insurance is about the "what-if time" and I believe my strength is the "what-if time" where they need us the most is when we're really going to show our value."