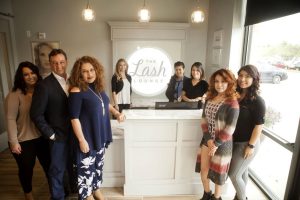 When the owners of The Lash Lounge in Highland Village decided last year not to renew their lease, they asked company headquarters in Grapevine if someone could take their place.
Turned out Vice President of Operations Yvonne Hemphill's husband Terrell was retiring from a long career as an oil and gas land man and was looking for an exciting new opportunity. So the couple purchased the business, moved it to Flower Mound's Robertson's Creek Shopping Center, and re-opened it January 30th.
Their store serves as the chain's flagship salon featuring a new interior design with an emphasis on providing customers with semi-permanent eyelash extensions and additional services.
"We have a new Director of Lash Services and Innovation at the corporate office named Eva Zacharias. She is very well known in the lash industry for innovation in advanced application techniques and tools. She teaches all of our stylists at The Lash Lounge the latest lash application processes and we are thrilled to have her leading our education program. Not very many lash artists can say they have been taught by a world renowned industry-leading educator," said Yvonne, a long-time cosmetologist and beauty industry operations and franchising expert who joined founder CEO Anna Phillips two years ago.
"We've incorporated a lot of new techniques and new tools especially for our multi-volume lashes (two or more extensions). That's definitely a key differentiator from our previous salon."
Their salon features new design elements including color schemes plus the addition of luxury massage tables, things that likely will be included in the other eight DFW stores and beyond.
"Our services provide a convenience in getting ready for the day," he said. "What's nice about eyelash extensions is that you can get up, apply a little bit of lip gloss and you're out the door. Lash extensions provide an instant transformation where you don't have to put on mascara each day. It just shortens the time you need to get ready in the morning."
The Lash Lounge's services also include top and bottom lashes, brow extensions, eyebrow threading, lash and brow tinting, and lash lift perms. Coming soon will be micro blading permanent makeup which is just another thing Terrell is excited about.
"In my little experience, I have never seen anything where you can change a person's whole perspective in an hour and a half," he said. "When clients come in and get their eyes done, they leave the salon a positively different person. If there's anything else you can do for that, I don't know what it is."
Visit The Lash Lounge at www.thelashlounge.com/salons/flower-mound.