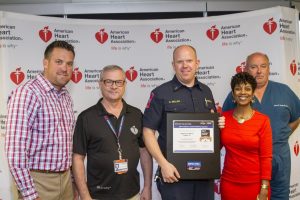 The Argyle Fire District received the American Heart Association's Mission: Lifeline EMS Bronze Plus Award for the highest quality pre-hospital cardiac care.
The Mission: Lifeline EMS Recognition acknowledges the work, training and commitment of EMS agencies and Medical First Responders to improve the overall quality of care for ST Elevation Myocardial Infarction (STEMI) patients.
A STEMI heart attack happens as a result of a complete blockage in a coronary artery and carries a great risk of death and disability.
"More than 250,000 people experience a STEMI every year which requires fast and efficient expert care to ensure survival rates among patients. Local EMTs and paramedics have a leading role in ensuring that the gaps that separate these patients and their access to lifesaving treatments are narrowed and ultimately closed," said Takiyah R. Wilson, PhD., Quality Systems Initiative Director for the American Heart Association, North Texas Division.
"We are thrilled to honor this group of leaders in our community and their dedication to improving systems of care and the quality of life to the patients they attend every single day. The AHA is looking forward to seeing what successes 2017 holds for our recipients and other agencies in the North Texas community."
The fastest way to diagnose whether a heart attack is a STEMI or non-STEMI is through a device called a 12-lead electrocardiogram. Mission: Lifeline advocates that every ambulance be equipped with this type of machine. By diagnosing a patient on the scene rather than waiting until they are transported to a hospital, EMS personnel can determine the best course of action to take to begin the appropriate means of treatment quickly.
Three levels of recognition for the Mission: Lifeline EMS Recognition are given. Bronze indicates performance for a calendar quarter, Silver for a full calendar year and Gold for two consecutive calendar years.
The PLUS recognition means EMS agencies have not only reached an achievement score of 75 percent or greater on all Mission: Lifeline Receiving Center Quality Measures, but also has demonstrated at least a 75 percent achievement on First Door to Device time under 120 minutes for STEMI transfer patients from other facilities.
To learn more about the American Heart Association's Mission: Lifeline and the Mission: Lifeline EMS Recognition, visit heart.org/missionlifeline.