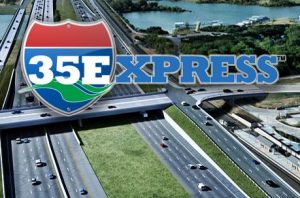 Life in the fast lane(s) is coming to I-35E.
The Texas Department of Transportation (TxDOT) will open 18-miles of TEXpress Lanes (toll managed lanes) on I-35E from I-635 in Dallas County to FM 2181 (Swisher Road) in Denton County on Monday morning, May 22.
The lanes will feature two concurrent lanes from I-635 to Valwood Parkway and two reversible lanes from Valwood Parkway to Swisher Road. A total of 14 entrance ramps and 15 exit ramps will be provided, as well as direct connections to/from the LBJ TEXpress Lanes.
Prior to opening (Saturday, May 20 – Sunday, May 21), the TEXpress Lanes will have a soft opening (tolls will apply) per the following schedule:
Southbound: 3 a.m. to 11 a.m.
Northbound: 1 p.m. to 1 a.m.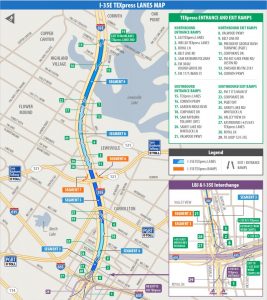 When the lanes officially open on Monday, May 22 (tolls will apply), the lanes will operate:
Southbound:
Monday – Friday: 3 a.m. to 11 a.m.
Saturday – Sunday: All day*
Northbound:
Monday – Friday: 1 p.m. to 1 a.m.
*Direction and hours for the weekend may be adjusted based on special events being held in the area.
The TEXpress Lanes provide drivers an option. They can choose to take the mainlanes at no cost or pay to use the TEXpress Lanes, which are designed to keep traffic moving at 50 mph or faster.
For the first six months, pricing will follow an approved toll rate schedule. After this period, traffic speeds will be maintained through dynamic pricing, meaning the price fluctuates based on congestion in the lane.
High occupancy vehicles (HOVs) and motorcycle drivers, with a valid toll tag who register and activate their HOV status online or through a mobile app, can receive a 50 percent discount during peak periods.
The I-35E TEXpress Lanes are part of the 35Express project, a $1.4 billion expansion of I-35E between U.S. Highway 380 in Denton County and I-635 in Dallas County.