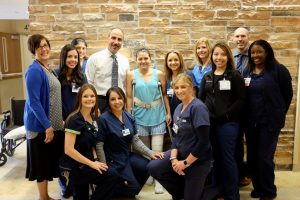 Though she could hardly speak any English, the petite young Honduran woman didn't need a translator to express her feelings on this late April day.
The happy tears streaming down her face, along with the hugs for and pictures with the doctors, nurses and other staff at Texas Health Presbyterian Hospital Flower Mound who had helped her said it all.
This was the day Yerlin Maribel Sierra Avila was going to leave the facility and begin her physical therapy at one of her surgeon's homes before heading back to her country this month.
The 29-year-old Avila had just received the news that the debilitating pain she had been experiencing over the last three years and kept her off a diseased leg for almost 18 months was resolved. The good news was the result of a group of caring people led by Dr. David Evanich of Flower Mound's Orthopedic Associates who arranged transportation and treatment that didn't exist in Avila's poor Central American country.
"It's been said that many hands make light work and I think that's what happened here," Evanich said. "A lot of people focused to put it all together and it turned into a great thing."
"Yerlin keeps saying 'Gracias, Gracias.' She's so thankful because so many people in Honduras have hard lives and limited resources. After things stop working they either live with their problem or accommodate for it.
"Can you imagine being 20-something and not being able to walk for a year and a half? That just wouldn't happen in the United States. But in a developing country, a third world country, they just don't have the same health care safety net."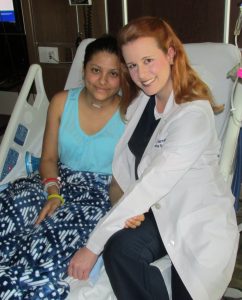 Avila started having pain in both legs while working at her job in a jewelry store. When it became intense around her knees, she visited the public doctor in Tegucigalpa who did X-rays and found the destructive giant cell tumor that while benign, was aggressive.
At first, she was told she had a tumor that was eating away her bone and it needed to be removed and later reconstructed. After three surgeries, the tumor was gone but so was the bottom half of her femur (thigh bone). Her hip was attached to her tibia (shin bone) utilizing an external fixator, a spanning device comprised of pins into the bones and outside bars linking them together. With such a resulting large defect, she was told her only option was amputation, but she and her family wouldn't accept that answer and sought other options.
Then last year she visited with Dr. Merlin Antúnez, director of the Holy Family Surgery Center, and a former resident of the adjacent Nuestros Pequeños Hermanos (NPH) orphanage in Rancho Sante Fe, Honduras. Evanich met Antúnez last summer when he, two of his children and several area nurses visited Honduras as part of a medical mission with Surgical Care Associates. They performed joint replacements on 20 patients who, like Avila, were told they had no other options and to live with their conditions and the accompanying pain.
In January, Antúnez and his staff removed the external fixator leaving her with a floppy leg. They formed a distal femur out of antibiotic cement and put pins into the femur to hold it in place. This was done to close the skin defects left by the fixator and to create a sterile environment for eventual definitive reconstruction of the bony defect.
"The problem when the pins go through the skin is there's a risk for infection," Evanich said. "Yerlin had been walking with a stiff leg for 18 months. Dr. Antúnez called me and said obviously she needs a complex limb-salvage reconstruction which is something only the most experienced orthopedic oncology surgeons do."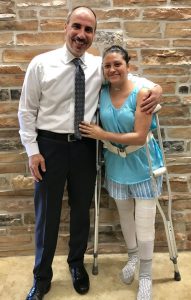 Dr. Evanich contacted Dr. Allaaddin Mollabashy, an orthopedic oncologist in Dallas, who reviewed her case and told him if she were brought here he'd help with the surgery. When the doctors in Honduras agreed they didn't have the expertise to perform the surgery she needed, Avila came to Texas with SCA, Texas Health Presbyterian Hospital Flower Mound, Orthopedic Associates, Zimmer Biomet, and Holy Family Surgical Center covering or donating the services and expenses required to transport and treat her.
"Dr. Mollabashy was the first domino to fall," Evanich said. "Once he offered to help, I knew things would go well. Next, I asked Spencer Turner, the hospital president, if the hospital would donate the surgical care and he said, 'absolutely, no problem.' Dr. Bob Egan then offered to donate his anesthesia services. As I asked for other things like the implantable prosthesis and home health equipment to be donated, it was always, "no problem."
"Yerlin's always saying thanks but really it's the people here who are saying thanks. They are just grateful for the opportunity to help. It couldn't have been done without the whole team. Nurses come on their time off to talk with her and have formed bonds with her. They get her favorite foods and try to make her feel at home as much as possible. Typically when you do those types of things, you get a lot in return too."
Evanich and Mollabashy handled the hip and knee reconstruction surgery on April 19 where they inserted a knee joint prosthesis attached to long rods extending from her hip to the middle of her shin bone. The limb-salvage prosthesis made up for the lost bone while giving her a functional knee joint back.
"The gap needed to be replaced and you can't just put anything in there. You need to anchor it to solid bone," Evanich said. "Because she hadn't beared any weight for so long, the bones became very soft, so soft that you could push your thumb through her bone. Thus, we had to bypass these compromised areas with long rods until we reached solid bone."
During her orthopedic surgery, a large mass was noted on her neck causing deviation of the trachea and compression on the esophagus. Follow up imaging suggested a large mass on the right lobe of the thyroid gland. Dr. Evanich contacted Dr. Carolyn Garner, an endocrine surgeon at Texas Health Presbyterian Hospital Flower Mound, for assistance.
Dr. Garner returned the patient to the operating room for planned thyroid lobectomy to exclude thyroid cancer. Intraoperative pathology suggested the potential for Hurthle cell thyroid carcinoma, but the pathologist could not be sure. Dr. Garner felt the mass was atypical for that type of cancer and was further worried based on an elevated parathyroid hormone level drawn before surgery. The parathyroid glands are adjacent to the thyroid and regulate calcium levels for the body.
Final pathology following thyroid lobectomy showed parathyroid cancer, an extremely rare cancer with fewer than 100 cases reported in the United States annually. Complications of the cancer include cardiac arrhythmia, renal failure, and bone fracture. While it is unknown if the parathyroid cancer caused her original tumor, resection of the parathyroid cancer has given her the best chance for bone healing. This was the second cancer Avila has faced.
Dr. Garner jokingly told Avila, "very rarely in Endocrine Surgery do we get to save the world… except in your case."
To which Avila spoke the one English phrase she knew – "Thank you very much."
Garner asked how she was feeling. "Very, very good, you've helped me very much."
If everything goes as planned, Avila should be off crutches and medications in 8-9 weeks.
"She's taught us a lot," Dr. Evanich said. "I'm happy we had the opportunity to help this young woman.
"The big thing you see is all the support she has here at the hospital. When people found out about Yerlin's situation, they were just dying to help. They wanted to participate in her care. When confronted by such a difficult and complex situation, it was nice to hear these types of responses. With all this support, we knew we were going to be able to help her.
"It was very encouraging and very reassuring that each time I asked someone for something I never heard the word "no." It was always "yes and what else do you need?" After surgery, I sent a thank you note to Dr. Mollabashy and his single response was, 'Oh no, thank you for the opportunity.'
"People want to help. That's what's within people. I think they just need the opportunity. If you give them the opportunity to help, you'll see great stuff happen."