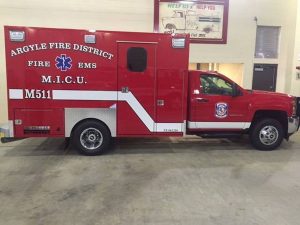 Paramedics who work for the Argyle Fire District are preparing to make it routine to check on patients who they've probably met before.
As part of a program called, "Community Health Paramedics," or CHP, EMS professionals in Argyle will soon be regularly checking on people who have had medical issues that have required multiple emergency calls and trips to the hospital.
"There are multiple reasons for it, but it's also a way for us to build relationships with our citizens who we are providing care for who we go on (calls for) multiple times a year, and sometimes, multiple times a week," said Argyle EMS Lieutenant Cody Miller. He said that they're doing this to "reduce the number of times they have to go to the hospital."
Miller says he was somewhat surprised to identify – through research of transport records – around 20 residents who might benefit from, and will likely be a part of, the CHP program. He's still gathering data, and said there could easily be more people added to the patient check-in program.
Many preventative measures could be taken, according to Miller, from the need to install rails to prevent falls, to much more complicated long-term solutions involving intervention from health professionals.
The need to put some type of preventative program into place has been on Miller's mind for some time.
"This has been in the works for a while across the nation, but I've gone through a couple classes on how to implement this and what to look for, and there are a lot of resources out there to help us on the funding side," Miller said.
He said the hospitals are actually realizing programs like this will help them reduce costs in the long run, and that's why in the past they've been willing to provide money and equipment to preventative programs like CHP.
Argyle paramedics will likely implement their Community Health Paramedics program within the next year.
"A lot of the patients we have are high needs and their families are just not taking care of them, and that's where we need to step in there and find them the help," said Miller. "And if it becomes a legal matter, that's part of our responsibility."