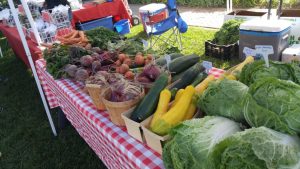 by Courtney Davis, Denton County Extension Agent – Family & Consumer Sciences
One of my favorite things about this time of year is that there is an abundance of produce in season and most can be found at our local farmer's markets.
Visiting a farmers' market is a fun way to find locally grown food, at the peak of freshness and nutrient content.
In Texas there are more than 100 farmers markets across the state offering seasonal produce, eggs, honey, baked goods and other items for sale. Here in southern Denton County, there are weekly farmers markets in Flower Mound, Bartonville, Lewsiville and Denton.
If you're planning on heading to one of our local farmers markets, here are a few tips to keep in mind.
Dress Comfortably.  You may do a lot of walking so be sure to wear comfortable shoes.  Also, in Texas it's always better to plan for a change in the weather so have an umbrella ready during rainy seasons.
Bring Cash.  Not all markets take checks, credit cards, or coupons although more and more vendors are starting to accept credit/debit cards and even WIC and the Lone Star (EBT) cards for those receiving SNAP benefits.  Small bills are usually welcomed by farmers needing to make change.
For peak quality and nutrition, choose your produce carefully.  Select produce at farmers' markets just as you would at the grocery store.  Avoid overripe produce or produce with bruises, cuts, mold or other blemishes that can result in poor quality or contamination of bacteria.
BYOB (Bring Your Own Bag).  Canvas bags hold up nicely and can be washed between uses.
Go Early.  For best selection, shop early in the day.  Some items may be on sale at the end of the day but popular items sell out fast.
Store your fresh produce safely.  The quality of fresh produce begins to decline after it is picked, so get it home right away.  Storage recommendations for fresh produce vary because of temperature and humidity requirements.
Keep these foods at room temperature in a clean, dry, well-ventilated place out of direct sunlight: bananas, melons, onions, potatoes, sweet potatoes, and tomatoes.
Allow these foods to ripen on the counter, then store them in the refrigerator: avocados, kiwifruit, nectarines, peaches, pears, and plums. While on the counter, don't keep them in plastic bags as this can slow down the ripening process and cause the fruit to decay.
Keep fruits and vegetables separate in the refrigerator. Fruits produce a gas that can shorten the life of vegetables.  Some vegetables, on the other hand, produce strong odors that can be absorbed by fruits.
Prepare produce safely.  Do not wash produce until you are ready to use it.  Wash produce using cool, running water, even if the peel is removed.  This removes dirt or mud and reduces exposure to germs that could cause foodborne illness.  Do not use soap or detergent to wash produce.
Use separate cutting boards for meat and produce to prevent cross-contamination.  Wash and sanitize cutting boards after use.
Refrigerate cut or peeled fruits and vegetables within two hours.  If it's 90 degrees or warmer outside, refrigerate within 1 hour.
For more information, contact Courtney Davis, Denton County Extension Agent for Family and Consumer Sciences at 940-349-2882 or [email protected].