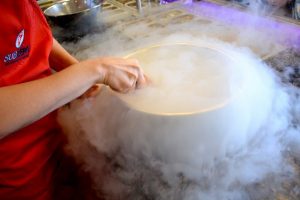 Temperatures are dropping as Sub Zero Ice Cream moves into Flower Mound.
Sub Zero serves the creamiest, premium ice cream that's customized to each guest's preferences by rapidly freezing individual creations using liquid nitrogen. The new store, located at 3721 Justin Road, Suite 150, in Highlands Plaza, (next to Gloria's) will open Friday, May 19, in Flower Mound.
There's one surprising thing customers won't see when they walk into the new Sub Zero Ice Cream of Flower Mound – freezers. Rather, each customized order is quickly frozen using a unique patented process.
Sub Zero is a science spectacle when it comes to serving made-to-order -321 degree liquid nitrogen treats, which take about two minutes to create using a unique patented process. The flash freezing ensures ice crystals remain miniscule, resulting in an ultra-smooth and creamy product.
The liquid nitrogen ice cream store offers completely customizable creations and caters to a range of dietary needs. Sub Zero offers seven cream bases, including original, premium custard, low-fat and yogurt, as well as lactose free, vegan and sugar-free options.
After selecting a base, guests can choose from nearly 40 different flavors and then mix in a variety of fruit, candy, nuts or baked goods for limitless combinations. Sub Zero also offers shakes and smoothies that are created using liquid nitrogen.
Sub Zero Ice Cream of Flower Mound is owned and operated by experienced franchise owners and brothers, Neil, Vinnie and Jatin Patel. The Patels own ten Little Caesars Pizza locations and have been in franchising for more than ten years.
Upon reading about the Sub Zero Ice Cream concept, they visited the San Antonio location to confirm their interest and after seeing the unique liquid nitrogen ice cream made firsthand, the Patels progressed with Sub Zero at a large scale.
The brothers are slated open 15 Texas locations over the next four years, including Irving, Euless and Waco in 2017.
"We knew Sub Zero was the right business for us when we first saw the liquid nitrogen wow-factor and learned about its profitable business model, so we didn't waste any time," said co-owner and operator Jatin Patel. "I am thrilled to bring this exciting concept to Flower Mound, and many more Texas locations to come, to share Sub Zero's premium ice cream and unique creation process."
The brand currently has more than 50 domestic stores open, as well as locations in China and the United Arab Emirates. Sub Zero estimates it will sign 50 contracts this year and open 50 additional stores over the next 18 months.
Sub Zero Ice Cream of Flower Mound is open Sunday through Thursday from 12 p.m. to 10 p.m. as well as Friday and Saturday from 12 p.m. to 11 p.m. To learn more, visit www.subzeroicecream.com.